Refinery29
: For many of us, getting a
manicure
 is a self-care write-off. It takes time and money, yes, but there's just something about carrying around nice fingernails (insert your adjective of choice: long, rounded, neutral, bright) that makes the hard things in life feel just a teeny bit easier. Of course, you can always do your own nails at home — grab a 
polish bottle
 or a 
box of press-ons
 and the glue they come with — but nothing can replace the full value of a salon manicure, especially if you're looking to have it all handled: shaping, gel extensions, and the 
pièce de résistance
: 
nail art
.
…
We've been charting the rise of nail art for the past few years, and the trends in designs have evolved. While there's no color or design that's certified 'in' or 'out,' because your art aesthetic is personal and subjective, there are a few fun looks that are predicted to be really-trendy this coming year, according to artists, creatives, and industry pros. To find the inspiration to bring to your next appointment, scroll through the 2022 nail art trend report, ahead.
…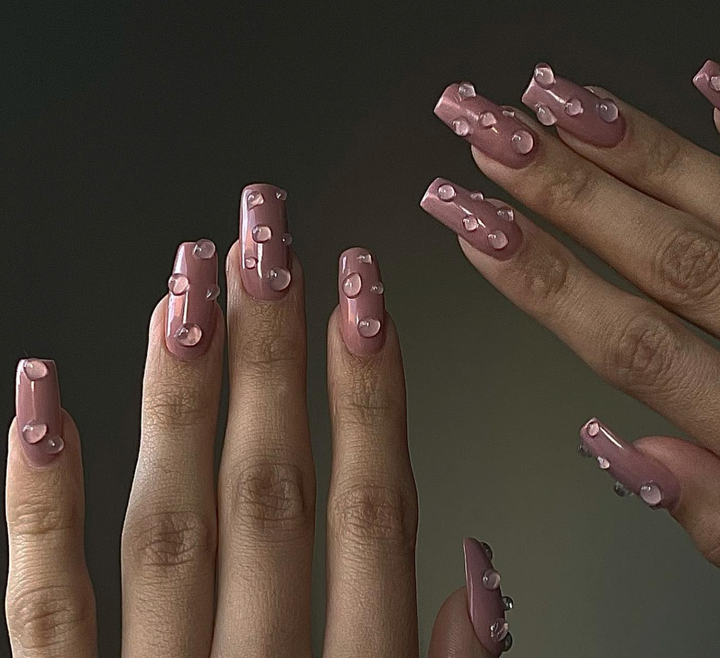 Sojin Oh
 is a nail artist who has made 
lifelike, amorphous nail art her M.O.
, creating custom designs, like "
amoeba nails
" for 
Euphoria
's Hunter Schafer and jellied "
koi fish nails
" for Normani. Her clients come specifically for her 3D gels, like these, which are rapidly becoming more mainstream. "I think people are starting to realize [3D art] is not as intimidating as it seems," Oh explains. "[The art looks] more like little sculptures on your hands, rather than just polished nails."
…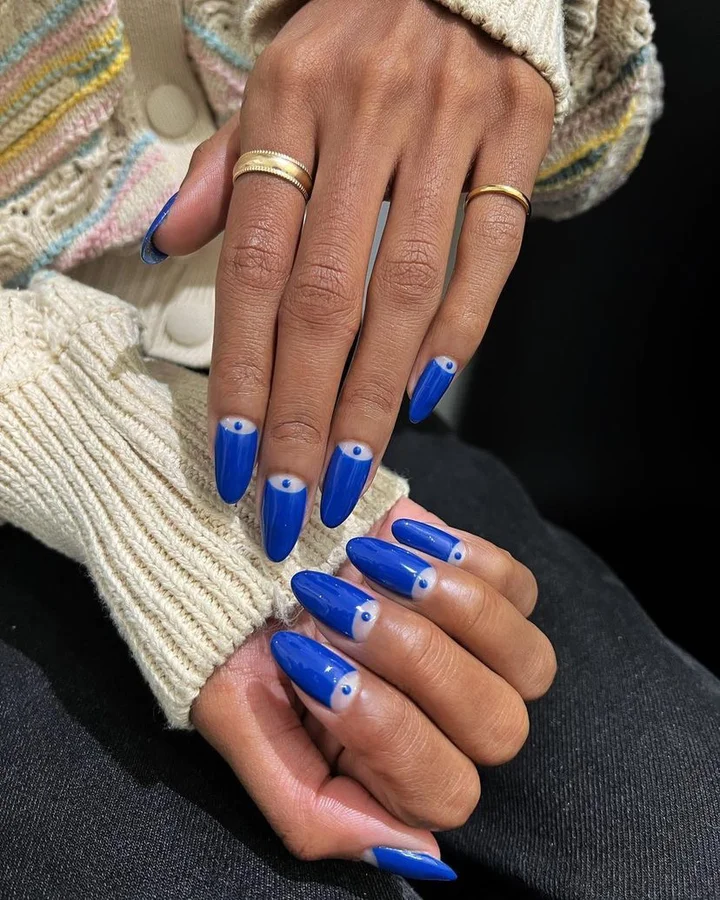 If you're looking for the shade of-the-moment, many artists are gravitating 
towards art with tones of blue
. "2022 is all about 50 shades of blues," says nail artist 
Queenie Nguyen
, who recently constructed this negative-space design with a cobalt blue OPI polish. It's both calming and refreshing at the same time.
…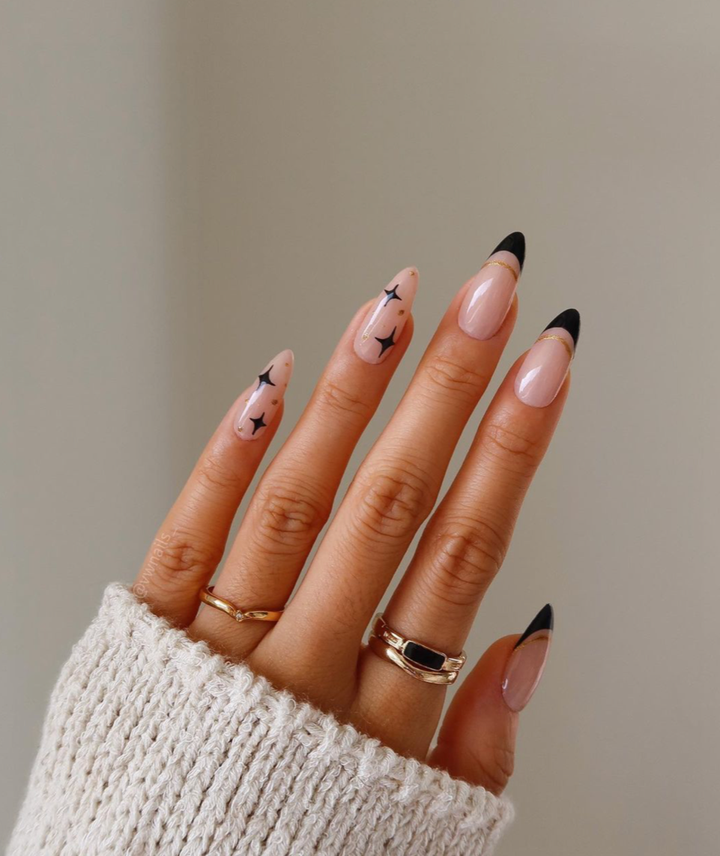 "Embellished French manicures are everywhere right now. Think of it as a
 typical French manicure
, perhaps in a fun color, with some other design element accompanying it. This trend is a fun way to spice up an otherwise-ordinary nail look." – 
Emily H. Rudman
, CEO and Founder of 
Emilie Heathe
…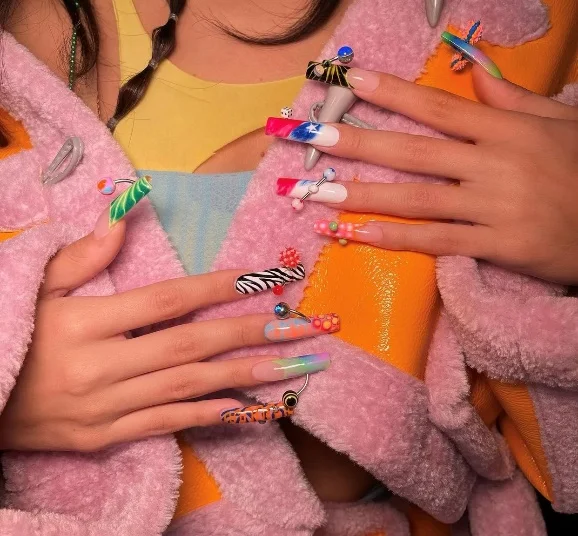 "Crazy add-ons, such as 
hoops and nail charms
, will make a strong appearance across manicures in 2022. When it comes to our nails, we don't necessarily prioritize practicality over making a bold statement. Choosing a nail design that you want to show off to everyone you come in contact with will always spark joy — or, at the very minimum, a conversation." – 
Chaun Legend
,
 Celebrity Nail Artist
…
"I believe the 
swirl nail art
 trend will continue to be popular throughout 2022. It's fun and versatile: it can either be muted, with earth-tone colors, or really fun, if done with 
bright, vibrant colors
. Depending on the colors you use, this trend can be worn in any  season." – 
Alexa Liberatore
, Nail Artist and Founder of 
Facile Nails
…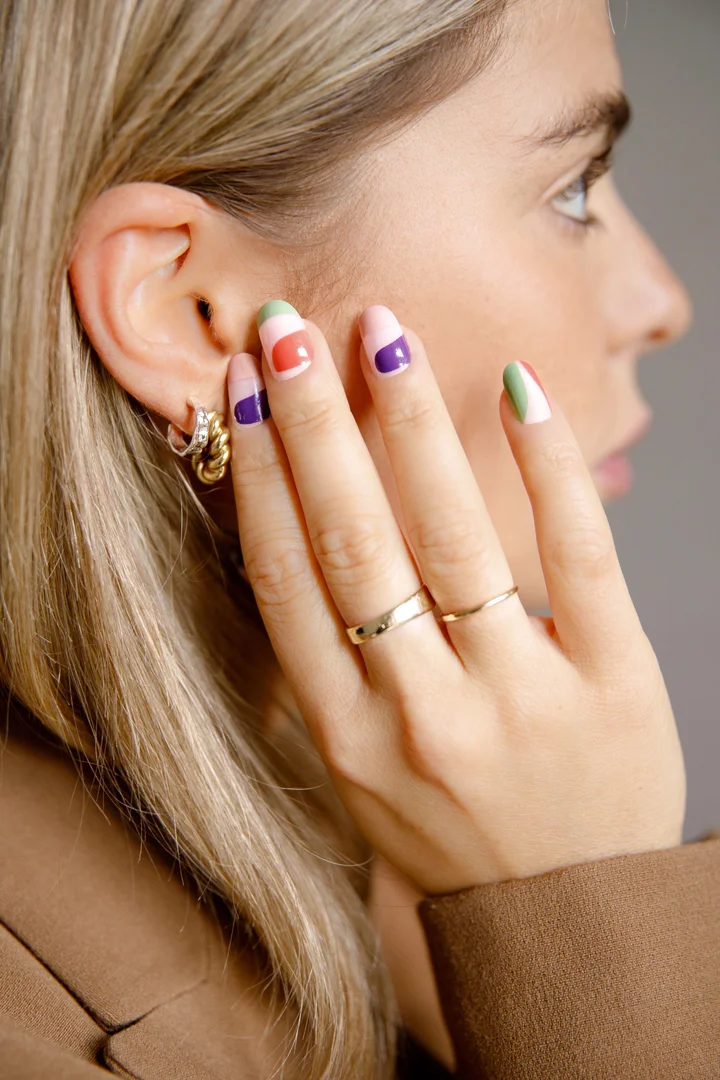 "The combo of 
different art on every nail is
 big! We will see a lot of  fun colors and pattern combos, whether it be with 
nail decals
, press-ons, or hand painted art, all in the same manicure. The options are endless, which allows people to let loose with their creativity." – Liberatore
…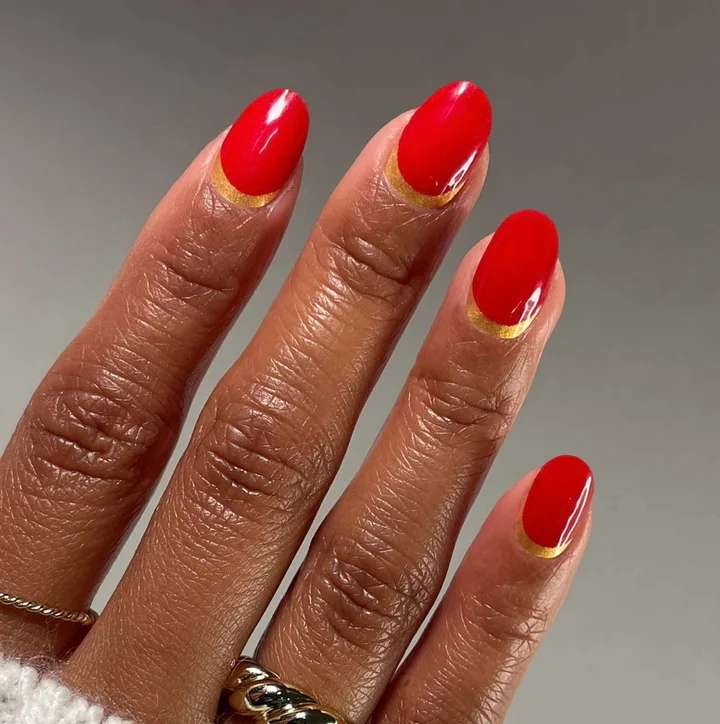 "A clean, bold-colored manicure — like 
hot pink
 or 
red
 — brings a sense of fun and vibrancy back to people's lives. We've been living through some tough times, and nail art has been a highlight for many of my clients. Their love and appreciation for nail art has grown, I believe, after the salon shutdowns of 2020. Some of my customers have told me that 'nail day' is the highlight of their month. Looking down at shiny, sparkly little works of art on their fingertips is a reminder of who they are: awesome people carrying on with life, enjoying the little luxuries of pretty nails, even on the hard days." – 
Mia
Rub
ie
, Nail Artist and Founder of Sparkle SF Salon
…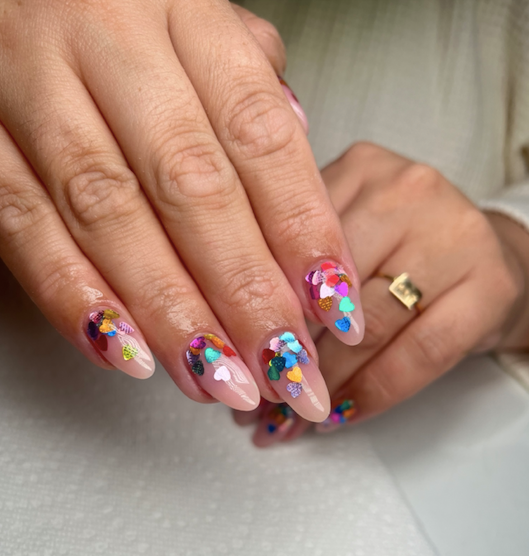 "I hope to see 
confetti-style glitter
 looks start trending in 2022. They are just so festive, fun, and go with any 'theme' or season. Last year was all about neutral/muted tones, so this year I'm hoping for something a bit more bold and bright to bring happiness to everyone!" – 
Rebecca Ludwig
, Nail Artist and Educator
"Right now, I've been drawn to 
gradients of green
 — nods to new starts, growth in winter, and the beautiful range that exists in a single color. [It's] a theme we explored earlier this season with a JH polish collaboration with the talented 
@sojinails
, who designed an otherworldly interpretation of JH greens with a swirled, three-dimensional layering with our colors 
Eames
, 
Patina
, 
Artichoke
, and 
Compost
." – 
Jess Hannah Révész
, Founder/Designer of 
J. Hannah
"A two-toned French manicure is an easy way to step up a nail your nail game and take it to the next level! It's so versatile, you can pair it with almost any color." – 
Brittney Boyce
, Celebrity Nail Artist and Founder of 
Nails of L.A.
…
"I love it when boys defy the norm and wear pink! It's a really excellent contrast color that looks great as a base with simple black nail art to create that extra pop. I created this look using 
UN/DN LAQR polish
 in 
Party Favor
 and 
Depressionist
." -Boyce