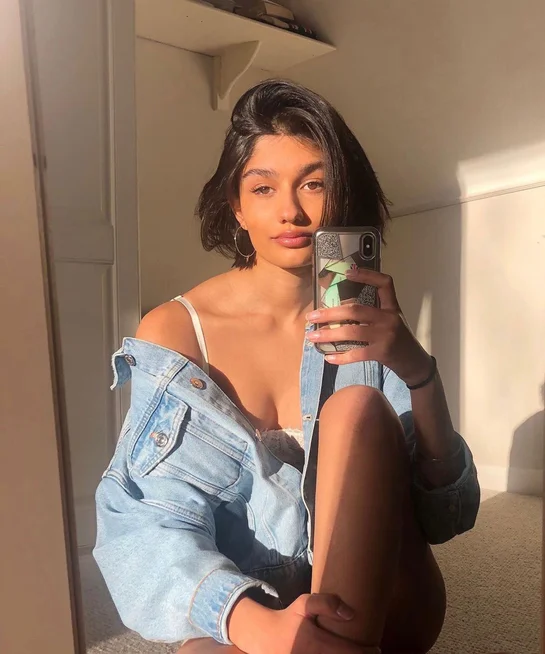 Refinery29
: 2021 was an incredible
year for hair
. Trends were born left, right and center, as celebrities, influencers, and TikTokers made a case for the coolest cuts. We're talking 
curtain bangs
 and '70s waves, through to the mullet (DIY 
and
 salon pro), not to mention the 
iconic shag
. But it seems the New Year is shaping up to be just as innovative and Instagram-worthy.
Big movements, like instinctive cutting (a cool, freehand technique) and French glossing (the 2022 spin on 
ombré
) have already made their way into the London's top salons, but there are a handful of ground-breaking — and totally wearable — hair trends just waiting to be uncovered.
Ahead, a dream team of most sought-after UK stylists predict the hair movements that are going to take 2022 by storm. Take a peek — because they're coming to America.
"The mixie is a marriage of a shorter version of the mullet, with a pixie haircut," says London-based hairstylist Neil Moodie, who boasts clients such as Phoebe Dynevor, Jodie Comer and Naomi Campbell. "It's effectively a short pixie, but all the edges are longer, which lends a much softer look. It can work on straight, wavy or curly hair."
Take inspiration from this cool cut by Paige McNeil on Instagram. Though dreamt up in Atlanta, this pixie-meets-mullet is giving us all the London cool girl vibes.
…
Award-winning hair artist 
Charlotte Mensah
 champions the classic afro cut, like this beautiful creation on model 
Londone Bui
. Charlotte touts this as low-effort and low-maintenance, and suggests keeping strands nourished and moisturized using 
Manketti Oil Pomade
. "This like a nutrient rich food for your hair," says Charlotte. "It coats every last curl and coil with intense moisture to instantly eliminate frizz and dryness."
…
…
The Bi-Bob
"This year people may start moving away from texture like shags and mullets. Instead, heavier silhouettes and bolder lines will take precedence," says Tom Warr, academy director at London's Blue Tit Salon. The new 2022 version of the bob takes inspiration from French hair cutting, which Tom has coined the "bi-bob" (it accentuates the bi-level area of the face, such as the eyes and cheekbones.)
"A bob with a heavy fringe is a perfect example," says Tom. "It still has shape, as it's shorter at the front and longer at the back, but heavier lines define features and stand out. Look at influencer Chloe Miles.
"Styling wise, you want to get a flat, straight-ish finish — but it can't look too perfect," says Tom. He suggests rough-drying hair, taking a small amount of the OWAY Smoothing Cream, and applying heat from a hairdryer in downward strokes. "Its cute, fresh, and timeless," says Tom.
…