Their Instagram feeds might look glossy and curated, but in real life, artists are vulnerable and scrambling for work.
This past February, like so many others in her 25 years as a freelance makeup artist, Rachel Goodwin boarded a plane from LAX to Paris with a 50-pound bag of makeup and a calendar full of Fashion Week gigs. "By the time I got there, it was like the whole world had changed," she tells Refinery29. "The Louvre was being shut down, my clients were not going to the shows, and I was getting on a plane to come home because of COVID," she says. "My world has not been the same since."
Like many in service-based industries — which make up 
25% of the U.S. work force
 and employ more women than men — Hollywood's leading makeup artists, hairstylists, and 
nail professionals
 have become unemployed virtually overnight as a result of the pandemic. Freelance celebrity hair colorist 
Cassondra Kaeding, who had just started working with Kylie Jenner
, says her entire calendar was wiped clean in an instant. "If our clients aren't working, we're not working," Kaeding says. Hairstylist 
Jenny Cho
 had just wrapped an in-salon training in London, worked with Lucy Boynton for the Chloé show during Paris Fashion Week, and finished an ad campaign with Ana de Armas before making it out of Spain right as travel advisories were being put into place. "I literally got home in the nick of time," she says.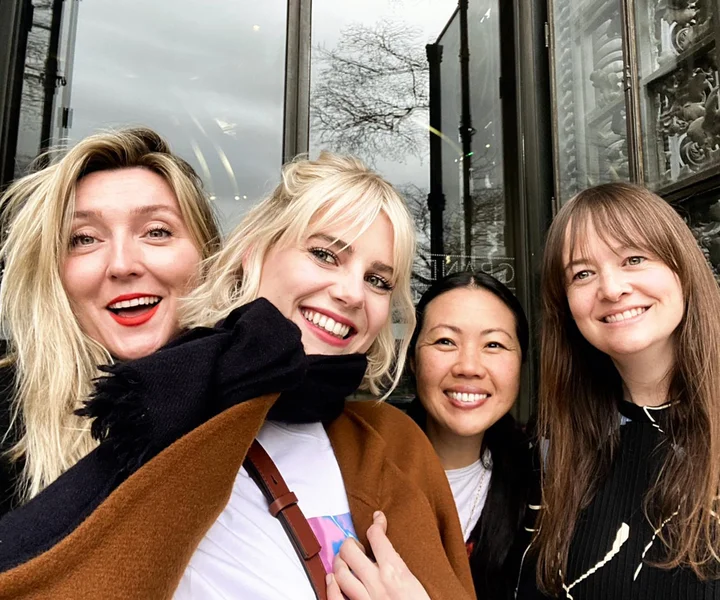 PHOTO: COURTESY OF JO BAKER
Whether Kylie has fresh highlights or a glittery Fashion Week party gets cancelled might seem trivial in a time of international crisis — especially when it's easy to confuse the lifestyles of glam squads with those of the celebrities they serve. But outside of the flawless last looks and BTS images they post on Instagram, there's a lot to the job we don't see. "What's shown on social media is definitely curated," Cho says. What's not pictured: a schedule that can change on a whim, 4 a.m. call times, jet lag, and long days away from family — all for less compensation than one might imagine. "I love my job," Cho says. "But it's not as easy and as glamorous as people may think."
_______________________________
The Real Cost Of Celebrity Beauty
The truth is, despite its glossy veneer, the job of a Hollywood beauty pro is closer to that of a gig worker: If there's no one to serve, there's no work — and no job security, either. "No matter how fabulous the venue, the client, or the event, freelance is freelance and that means you're unemployed until you're employed," says makeup artist 
Tasha Reiko Brown
, whose clients include Logan Browning and Tracee Ellis Ross.
Freelance beauty pros are typically paid between 30 to 90 days after completing a job and in one lump sum from which they draw their own salary after paying out-of-pocket for health, liability, and disability insurance, retirement, 401K contributions, agency fees, assistant fees, taxes, and supplies like foundation, brushes, and hairspray. "When people hear our rates, what they don't understand is that freelance artists are on our own. So what we make at the end of the day is not what it sounds like," Goodwin says. "There's a misnomer that it's a big glamorous career, and it is, but it's also feast or famine. We're very vulnerable because we don't get a normal paycheck. There are people who won't be able to pay their rent in this unpredictable climate."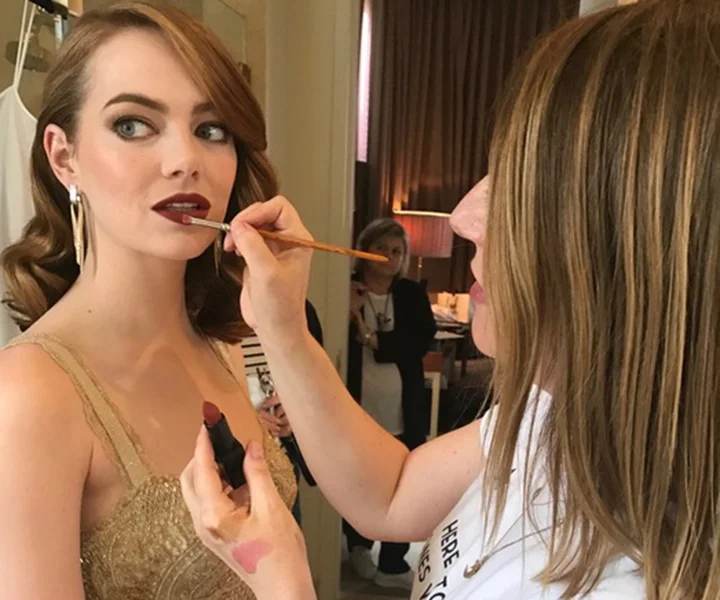 PHOTO: COURTESY OF RACHEL GOODWIN
As both Goodwin and makeup artist 
Fiona Stiles
 point out, the COVID-19 outbreak has exposed other cracks in their sector of the industry. "Makeup artists and 
hairstylists in the film industry
 are more protected because they have a union," says Goodwin, who works with actors like Emma Stone and January Jones. "Our part of the business has never had it and I've always wanted there to be one, but there's just never enough momentum, seemingly, forpeople to get behind it."
Even before COVID-19 put an abrupt end to the movie premieres, photoshoots, press junkets, and galas that kept Hollywood's glam teams earning a steady income, many artists in the industry had already taken financial hits with a changing landscape. In the 2008 financial crisis, rates were slashed to a quarter of what they once were and have never fully recovered, according to Goodwin. Meanwhile, a surge of young talent who are looking to break into the industry and willing to work for less has congested the field and stymied rates. "There are artists who will fly themselves to LA or to Paris during Fashion Week or to France for Cannes to make themselves available wherever the clients are going," notes freelance hairstylist 
Lacy Redway
, whose clients include Tessa Thompson and Zazie Beetz.
It's a precedent that can trickle up to seasoned pros, who are expected to occasionally pay out of pocket to keep a client on their books. "Since the 2008 economic disaster, studios have cut budgets so low that they sometimes ask us to pay for travel ourselves or to crash at a friend's house like we're 19 years old, but I try not to do that," Cho says. Collecting frequent flyer miles can help lift the burden, but that doesn't always cover it. Sometimes, celebrity clients split the difference.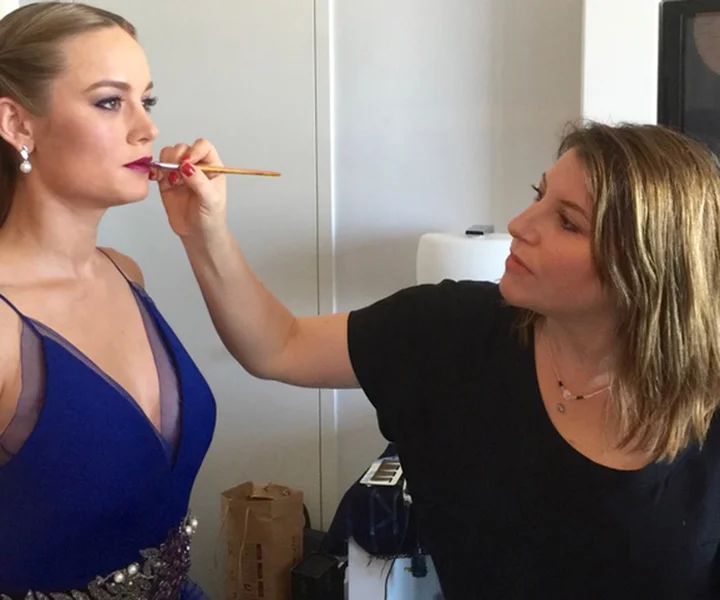 PHOTO: COURTESY OF RACHEL GOODWIN
____________________________________
Financial Worry Despite Fiscal Responsibility
In some ways, the fluid and unstable nature of freelance artistry in beauty has better prepared veteran artists and stylists for the type of sudden fallout that many gig economy workers are facing due to the coronavirus. All the pros we talked to for this story have stacked savings to draw from while they're out of work — in this case, because of a pandemic. "When I first got into this business, I was told to save my money and be able to position myself to where I had a six-month fund because you want to ride out times when your loyal clients aren't working. Even without COVID, you can have a dry spell, so you have to be the kind of person who thinks ahead and doesn't live beyond your means," Goodwin says.
A healthy war chest built to cover a few months of expenses can help ease the pressure of sudden job loss, but the unpredictable nature of the pandemic is worrying even the most prepared of professionals. "It's an emotional rollercoaster," says Redway about her concerns brought on by the shutdown. "It leaves artists and creatives in such an uncertain place because we don't know when we're going to be able to go back to work. We work in such an intimate way with talent — we're touching their faces, hair, and nails constantly. After the ban is lifted, when will people be comfortable with having other people touching them in that way?"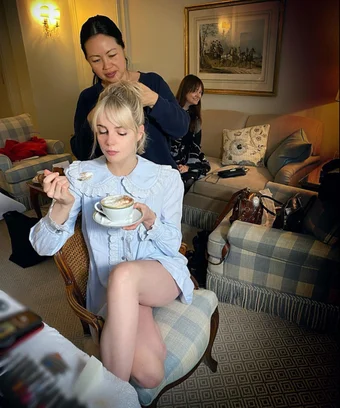 PHOTO: COURTESY OF JO BAKER
But it's not enough, and many are still left waiting and wondering what the future will hold. "I'm definitely worried about what's going to happen," notes Cho, who had just closed escrow on a new home when the shutdown hit and has a family to support. "I applied for unemployment and am waiting for it to show up. It's not a lot, but it's something." For her part, makeup artist 
Emily Cheng
 is looking into enrolling as well.
It's not just those with dependents who face additional challenges to making ends meet at a time when work has flatlined. As Goodwin acknowledges, freelance artists still establishing themselves in their careers might not have had the privilege of stacking an emergency fund. "The artists I feel bad for right now are the ones who are just starting because they haven't been able to build up and establish themselves," she says. "If I was two or three years in, this could be a roadblock I may not be able to get by."
________________________________
The Instagram Economy
Queenie Nguyen
 is an LA-based nail stylist who works with both private and celebrity clients. Last year, after more than 10 years in the salon sector, she made the switch to working with talent. Since then, she has impressively grown her portfolio, not only by gaining agency representation and working with stars like Halsey and Soirse Ronan, but also by building a modest following on Instagram. Though she says she has some savings to draw from, she couldn't have prepared for the sudden and massive fallout from the coronavirus. The nail stylist is working to drum up brand partnerships on Instagram. But she also recently signed up to be a Postmates delivery driver a few times a week in order to cover the cost of her grocery bills.
PHOTO: COURTESY OF CASSONDRA KAEDING
Because the app allows her to pick her shifts, she's able to prioritize nail-focused opportunities as they come up. "If I have a collaboration with a brand or a set Instagram Live, then I can make sure to be there for that," she says. She's already partnered with a beauty brand on a DIY video since the shutdown and is working to do more. "I don't really make a lot of money from this. It's just for the exposure, so that when this is over, I'll have more work," she says.
Kaeding, who splits her time between working with celebrity clients and in a salon, has found her own unexpected revenue stream in quarantine. Right when her salon was closing, the colorist made moves to stock up on supplies. "I thought, Maybe I can do something for my clients," she says. She landed on making at-home hair color kits to help clients keep up their color while self isolating.
The endeavor has earned her a little extra cash, and connected her more closely with her regulars as well as new clients from all over the country. "It broadens my horizons and it's cool to see people so happy and excited when they're able to do color themselves," she says. "Before, I worked so many hours that I was never able to brainstorm and come up with ideas. But this has got my wheels turning. Maybe this is something that I can continue to do later down the road for people who can't come to me." In addition to mixing $110 custom-color kits for customers on Instagram, Kaeding is working on creating a website to make ordering more seamless.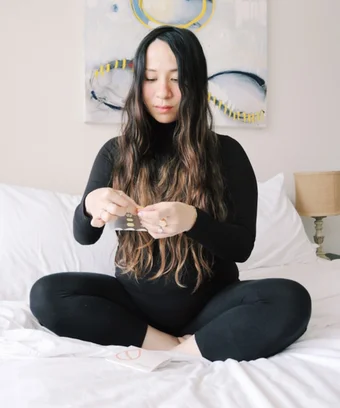 PHOTO: COURTESY OF HANG NGUYEN
Nguyen and Kaeding aren't the only artists taking to Instagram to share their skills. Despite increasingly dire circumstances, there's never been a better time to get beauty advice straight from Hollywood pros who are typically too slammed with their day jobs to engage online. Makeup artist Reiko Brown has partnered with brands like BeautyBlender and Kevyn Aucoin for tutorials and Q+As. "It's keeping me creative," she says. "There's times that I can't do something like this because we have back-to-back press junkets and I don't have time to do a how-to or beauty breakdown. Now I have time. I'm going more in depth and sharing a lot of knowledge. That feels good, and the response has been amazing."
For artists who have no other subject to work on, this unique time is pushing their skills in new directions. "Personally, I've never wanted to be in front of the camera, but it's not like I have anyone else to do makeup on, and I miss it so much that this has encouraged me to think about getting a little more personal and showing my personality off a little bit," says makeup artist Emily Cheng, who works with Yara Shahidi, Laura Harrier and Julia Garner.
PHOTO: COURTESY OF JENNY CHO
Other artists are using this time to focus on content to deepen connections in the beauty community and inspire their followers. As co-founder of the forthcoming 
Makeup Museum
, Goodwin is working to create online content around its #generationsofbeauty campaign. On her own platform, she's creating an IGTV series called "State of the Art" for burgeoning industry pros. Redway is also offering her services wherever they're needed. "At the beginning of this, I started to question whether or not I should post on social media because I was starting to feel like what I did wasn't as valuable and important as a nurse, a doctor, or other people on the front lines," Redway says. "People are suffering or losing family members and don't know how they're going to pay their next bill. If me showing them how to do an updo or twist-out at home is beneficial to them, then I'm happy to get on that Zoom call and do it for free."
Instagram and brand sponsorships can help provide some income for artists, but they're typically reserved for those with an established social media presence, which can take years to build. Let's not forget that artists are also just doing their best to survive during a traumatic time. 
Hang Nguyen
, a nail stylist who works with Jennifer Garner and Emma Roberts, is expecting her third child any day. Though she does have some income thanks to collaborations with nail companies, she's most concerned with staying healthy. Cho is thinking about creating her dream product line in between unpacking boxes in her new home and homeschooling her four-year-old kid. Like countless other working women, moms like Goodwin, Redway, and Stiles are suddenly taking on the role of primary educator.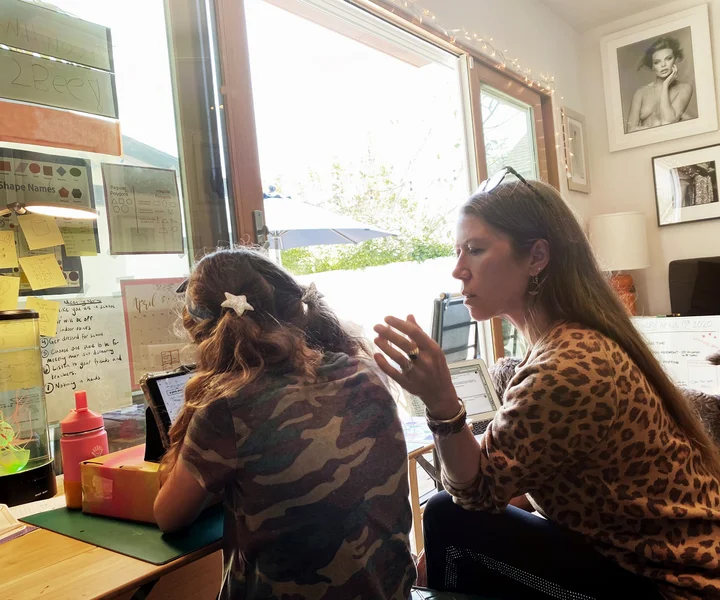 PHOTO: COURTESY OF FIONA STILES
"For parents, you're suddenly a chef and full-time teacher and parent. I have zero time. I'm trying to figure out how to do second grade math and still run 
Reed Clarke
," Stiles says of her ecommerce beauty site. "When am I going to have time to do a YouTube video? This is not a creative moment for a lot of us. It's just a lot of extra doing."
From Hands-On To Hands-Off
No matter how slammed Stiles is with her quadrupled workload, she can't help but think about how the process of executing a red-carpet look is going to change moving forward. The veteran artist has been hyper vigilant about sanitation and preventing contamination since day one. She washes her hands, uses sanitizer constantly, and deep cleans her tools after every use.
But like other celebrated makeup artists in the business, Stiles, who works with Zoey Deutch and Gabrielle Union, typically uses her fingers to tap and blend cream blushes, lipsticks, and other makeup products onto her clients' skin. "My fingers are a big part of my toolkit. I mix colors on the back of my hand to get a custom lipstick shade or to see what the chemical reaction of a product on the skin will be before I put it on someone.What used to be an asset — my hands, my fingers — are slightly weaponized," she says.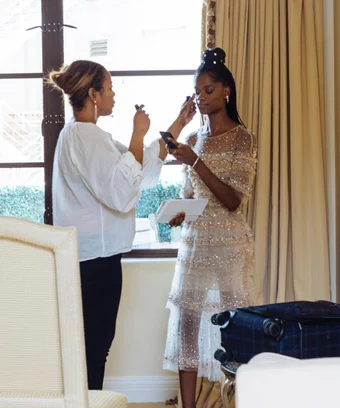 PHOTO: COURTESH OF BASIA BOWENS
Adjustments will have to be made, she says. "Moving forward I'll have to figure out how to mix colors and products in a way that doesn't include contact with my skin. It's going to be interesting to pick an intuitive part of doing makeup and adjust it to a more systematic way of touching a product."
Celebrity nail stylists may already wear protective gloves and masks, but Nguyen thinks pros will have to rethink how certain products, like dip powders, are used. Redway pictures a scenario in which every member of a glam team wears masks while working. She's also considering whether gloves will need to be worn when touching the scalp while braiding hair. How will they not rip or cause static cling? "Someone may have to create a glove that feels like human touch," she says.
It's hard to imagine when Hollywood glam teams will get back to work, much less how. "Some people have clients who only do performances, and we know we're not going to be in packed amphitheaters anytime soon. With movies, I don't know what press junkets will look like moving forward," Reiko Brown says. "I do know the dust will settle and nothing will go back to normal. We'll have a new normal, but the industry will hold. We'll adapt to survive."
PHOTO: COURTESY OF HANG NGYUEN