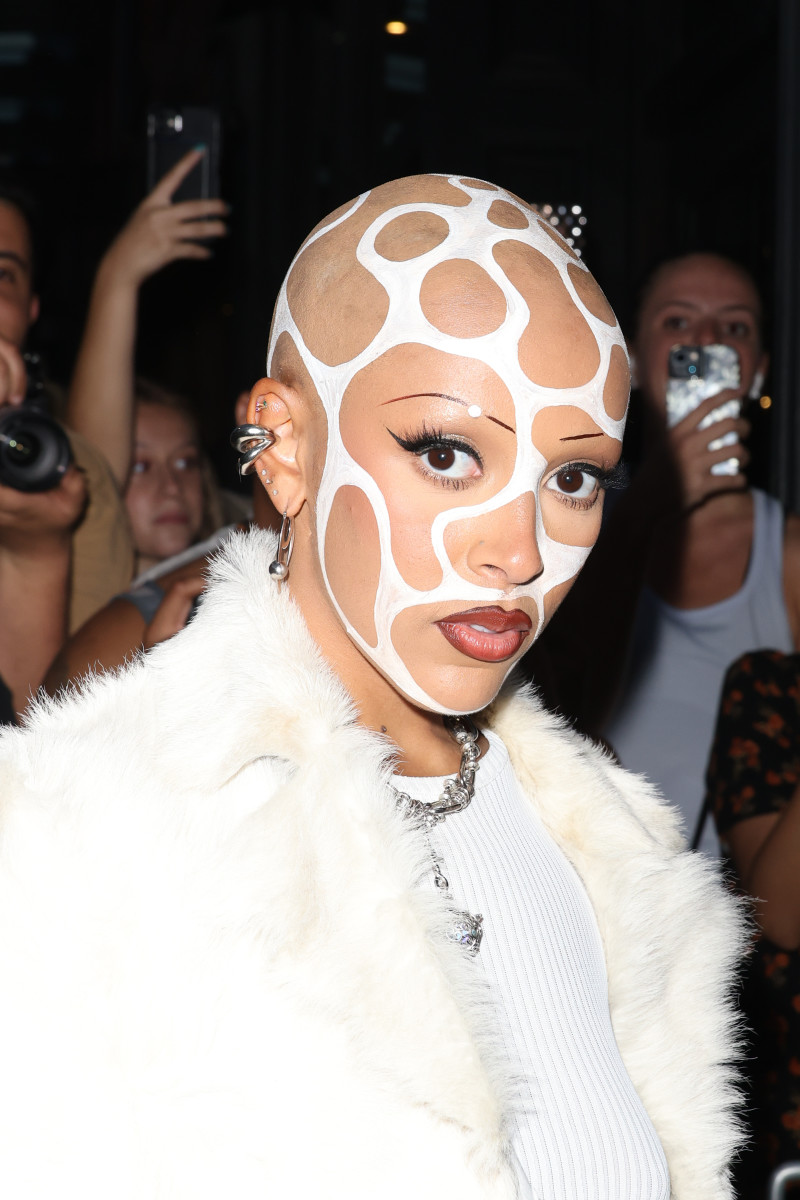 Makeup is not traditionally considered a fine art, but that perception may be shifting. Through the work of multidisciplinary talents like Laurel Charleston, whose nonconformist and illusion makeup looks recently made waves in the public via the likes of Doja Cat, viewers are invited to consider the face a canvas rather than simply a medium for trends.
Illusion and abstract makeup has long held a place in editorial work and, more recently, on social media, but it's remained somewhat rare to see such designs in real life or on celebrities outside of Halloween (or the Met Gala). Lately, though, the partnership between Doja Cat and Charleston has begun to change that, with the duo experimenting with trippy, campy and delightfully weird beauty looks, particularly throughout fashion month in September. Whether a French flag extending from the lower lip or comic-book-character-worthy spiky eyeliner, Charleston's eye-catching looks have gone viral and generated plenty of buzz. Through these types of surrealist beauty statements, her makeup artistry has defined the rising minimalist illusion trend, influencing new fans in the process.
"Through most forms of media, so much makeup is about the eyes and the lips. It's about human features and trying to achieve this similar goal of what standard beauty should be or [what it] currently looks like," says Charleston. "When you release yourself from those standards, you can begin to explore the endless possibilities of makeup."
Doja Cat is famous for her eccentric wigs, but when the Grammy-winning artist debuted her shaved head and eyebrows in August, admitting that she "never liked having hair," it opened an even more expansive canvas for Charleston's work. Prior to Paris Fashion Week, the artist painted Doja Cat's entire head for the "Vogue World" show during New York Fashion Week.
"I like to see makeup as using the whole face as the canvas. That was the epitome of this [New York Fashion Week] look; exploring what that can mean with makeup and showing the world that makeup can go beyond the geography of an eye. It can encapsulate the entire face and body," she explains.
…
Using "minimalist" makeup to draw attention to specific parts of the face, Charleston continued the streak of intricate looks during Paris Fashion Week, paying homage to Thom Browne's statement French flag while keeping the rest of Doja Cat's face a bit more classically made up. The "Need to Know" artist went full Pantruche-chic, wearing a wrapped Browne ensemble from the designer's Fall 2022 collection, with her buzz-cut hair and eyebrows shaved down and tinted blonde. To highlight the French flag painted on her lips using acrylic paint from MAC Cosmetics, Doja Cat's eyes were concealed by sheer, oversized sunglasses.