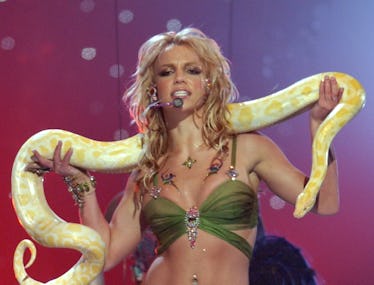 Kevin Kane/WireImage/Getty Images
…
WMAG: Britney Spears is finally telling her side of the story. Her memoir The Woman in Me, out October 24th, will tell the "Journey (and) strength at the core of one of the greatest performers in pop music history." Prior to its release, People obtained excerpts of the book which already featured bombshell revelations on everything from her conservatorship to relationship with Justin Timberlake. Below, everything we know about The Woman in Me, so far.
Michelle Williams Is Narrating the Audio Edition
Spears has tapped actress Michelle Williams to narrate the book's audio edition, explaining that she had a "heart-wrenching" time during the writing process.
"Reliving everything has been exciting, heart-wrenching, and emotional, to say the least," Spears said in a statement. "For those reasons, I will only be reading a small part of my audiobook. I am so grateful to the amazing Michelle Williams for reading the rest of it." Williams expressed her support for the musician, saying "I stand with Britney."
"Soul-Crushing" Conservatorship
In 2008, Spears was placed on a psychiatric hold after and later under a conservatorship by her father Jamie Spears. "Shaving my head and acting out were my ways of pushing back," Spears explained. "Under the conservatorship I was made to understand that those days were now over. I had to grow my hair out and get back into shape. I had to go to bed early and take whatever medication they told me to take."
She later writes that she felt "infantilized" under the conservatorship and lost her passion for music. "I became more of an entity than a person onstage. I had always felt music in my bones and my blood; they stole that from me."
"Think of how many male artists gambled all their money away; how many had substance abuse or mental health issues," she adds. "No one tried to take away their control over their bodies and money. I didn't deserve what my family did to me."
…
Relationship With Justin Timberlake
Spears remembers her The Mickey Mouse Club days where she met Christina Aguilera, Ryan Gosling, and Justin Timberlake, who she later formed a romantic relationship with. She recounts their first kiss as "A Janet Jackson song was playing in the background," as well as a "difficult" decision in 2000 to have an abortion after learning she was pregnant.
"It was a surprise, but for me, it wasn't a tragedy," she writes. "I loved Justin so much. I always expected us to have a family together one day. This would just be much earlier than I'd anticipated. But Justin definitely wasn't happy about the pregnancy. He said we weren't ready to have a baby in our lives, that we were way too young."
We know understand why sources are saying that Timberlake is "concerned" about Spears' memoir.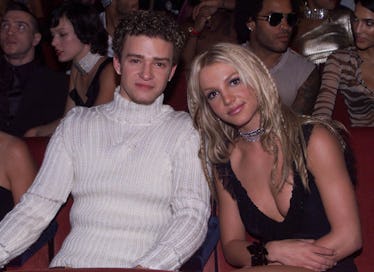 Dave Hogan/Hulton Archive/Getty Images
2001 VMAs Performance
Spears also opened up about how scared of the snake she was during her iconic 2001 performance of "I'm a Slave 4 U" during the MTV Video Music Awards.
"All I knew was to look down, because I felt if I looked up and caught its eye, it would kill me," she penned. "In my head I was saying, 'Just perform, just use your legs and perform.' But what nobody knows is that as I was singing, the snake brought its head right around to my face, right up to me, and started hissing."
Relationship With Her Mother, Lynne Spears
Spears' parental relationships receive outsized attention in the memoir, where she discusses her often strained relationship with her mother, Lynne Spears.
"We called our cocktails 'toddies,'" she writes. "I loved that I was able to drink with my mom every now and then. The way we drank was nothing like how my father did it. When he drank, he grew more depressed and shut down. We became happier, more alive and adventurous"
…
She Almost Starred In The Notebook
Although Spears is best known for her music, she did have a short career as an actress in the early aughts—appearing in Crossroads, an experience she said "wasn't easy" due to "what acting did to my mind." She later goes on to say that she was up for another role in The Notebook.
"The Notebook casting came down to me and Rachel McAdams, and even though it would have been fun to reconnect with Ryan Gosling after our time on the Mickey Mouse Club, I'm glad I didn't do it," she explained. "If I had, instead of working on my album In the Zone I'd have been acting like a 1940s heiress day and night."
…
…