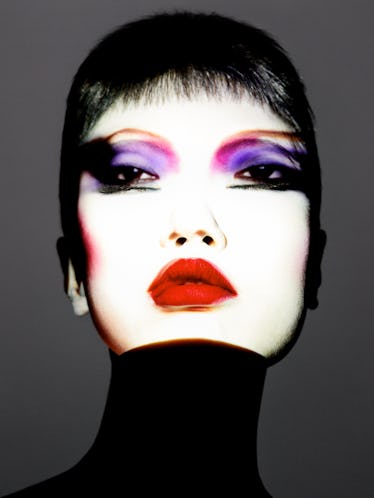 Man Zuo Xi.
…
Makeup by Sam Visser
Photographs by Carlijn Jacobs
Styled by Imruh Asha
Hair by Olivier Schawalder
…
WMAG: "I'm always trying to remix the makeup I was influenced by when I was much younger," says 23-year-old makeup artist (and Dior beauty ambassador) Sam Visser, who started experimenting with cosmetics when he was in junior high; at 16, he had already developed a sizable following on social media for the edgy but glamorous looks he records in photos and videos. "I love makeup that makes someone look beautiful, but I also want to twist it and not make it feel too classic," says Visser, who uses a 1990s VHS camera to capture hyperreal statements on celebrity friends such as Bella Hadid, Kaia Gerber, and Ariana Grande.
His camera may be old-school, but modern technology has played an outsize role in the way he approaches his career. "Visually, technology has been a major influence my whole life," he says. It also helped him reach the right audience. "Before social media, unless you were working monthly in magazines, people weren't seeing what you did," he says. "But, obviously, everything changed when Instagram came out."
…
For this story, Visser collaborated with Dutch photographer (and fellow technophile) Carlijn Jacobs, who used projections to give these images an otherworldly, layered quality. The inspiration—tropical paradise—was an easy one for Visser, who grew up in a small beach town in California. "I wanted to capture the colors of the tropics: bird-of-­paradise, plumeria, palm trees, hibiscus," he says. The silver, gold, and blue pigments on one model were inspired by the way the water sparkles in the midday sun, while the glints of light on another's lips were meant to evoke a starry island sky at night.
…
As a counterpoint to the hot colors and metallic textures, Visser used liberal amounts of powder to give the models' complexions a super velvety look. "When you think of the beach, you think of very glowy, wet, dewy skin," he says. "I wanted to oppose that completely, so the feeling was this kind of surreal-looking skin." The matte finish also provided a blank canvas for Jacobs's projections. "We're going into this whole time of AI, and this story foreshadows that, in a way," says Visser. "The technology and the makeup kind of melded into one, playing with a new idea of beauty I don't think I've seen before."
…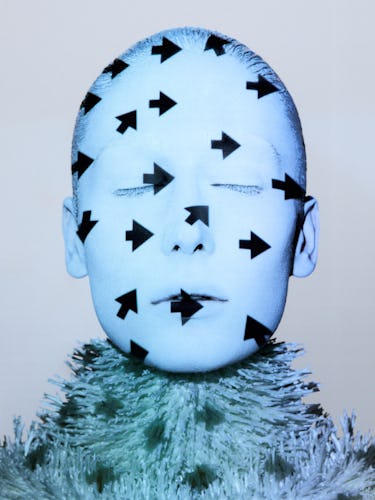 Hunter Pifer wears a Courrèges sleeveless jacket and dress.
…
Rejoice Chuol wears a Simone Rocha jacket, bodysuit, and veil.
…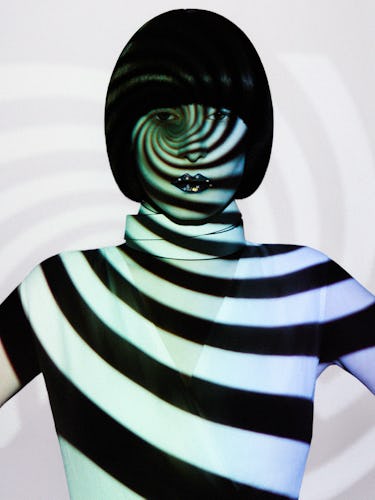 Pifer wears a Fabiana Filippi vest; Michael Kors Collection belt (worn as necklace).
…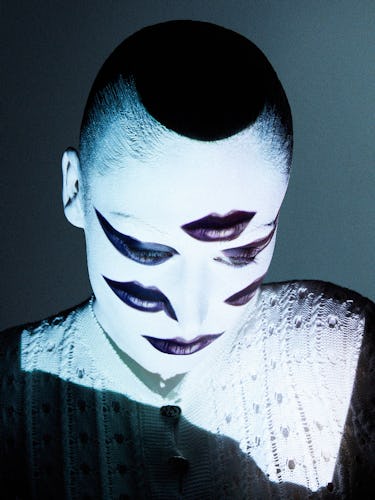 Greta Hofer wears a Chanel dress.
…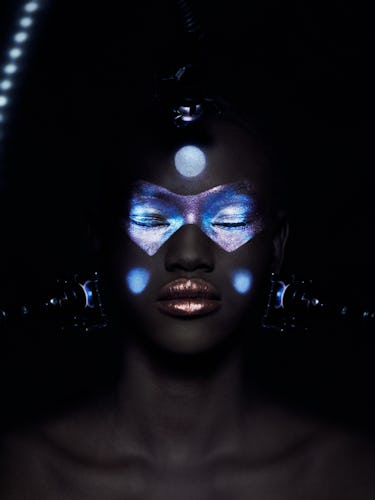 Chuol.
…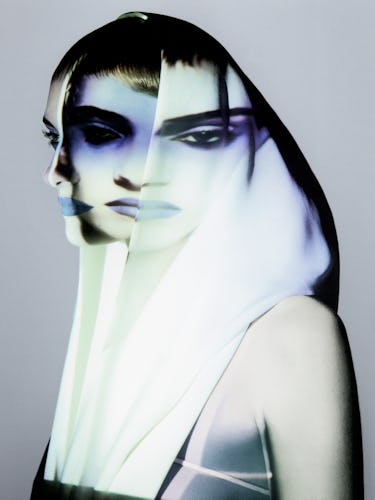 Hofer wears a Ferragamo dress.
…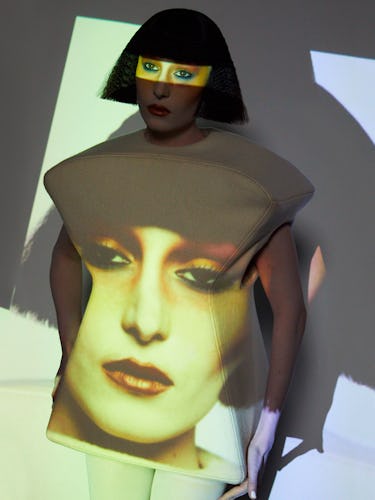 Pifer wears a Rost top; stylist's own tights.
…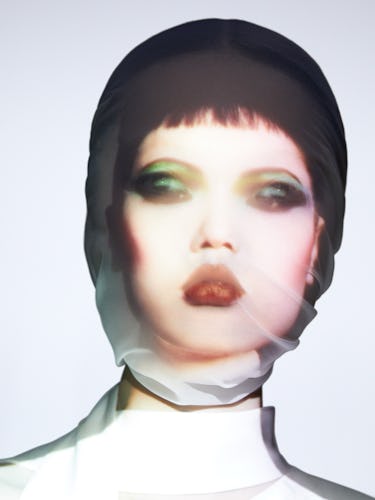 Zuo Xi wears a Dior dress.
…
Hair by Olivier Schawalder at Art + Commerce for Oribe; makeup by Sam Visser at Art Partner for Dior Beauty; manicure by Beatrice Eni at ASG for Kure Bazaar. Casting by Michelle Lee at Michelle Lee Casting.
…
Models: Greta Hofer at the Society Management; Hunter Pifer at Q Management NYC; Man Zuo Xi at Oui Management; Rejoice Chuol at Muse Management; produced by Cinq-Étoiles; producer: Charly Forin; production managers: Carolina Nyberg Anselius, Julien Naccache; production coordinator: Floriane Boissieras; photo assistants: Pierre Nowak, Patricia Zheng; fashion assistants: Aroua Ammari, Camilla Poce, Girre Miako; production assistant: Arthur Debriffe; hair assistant: Damien Lacoussade; makeup assistants: Eloïse Bourges, Marie Vallée, Emilie Nssoga; tailor: Faty Alami.
…