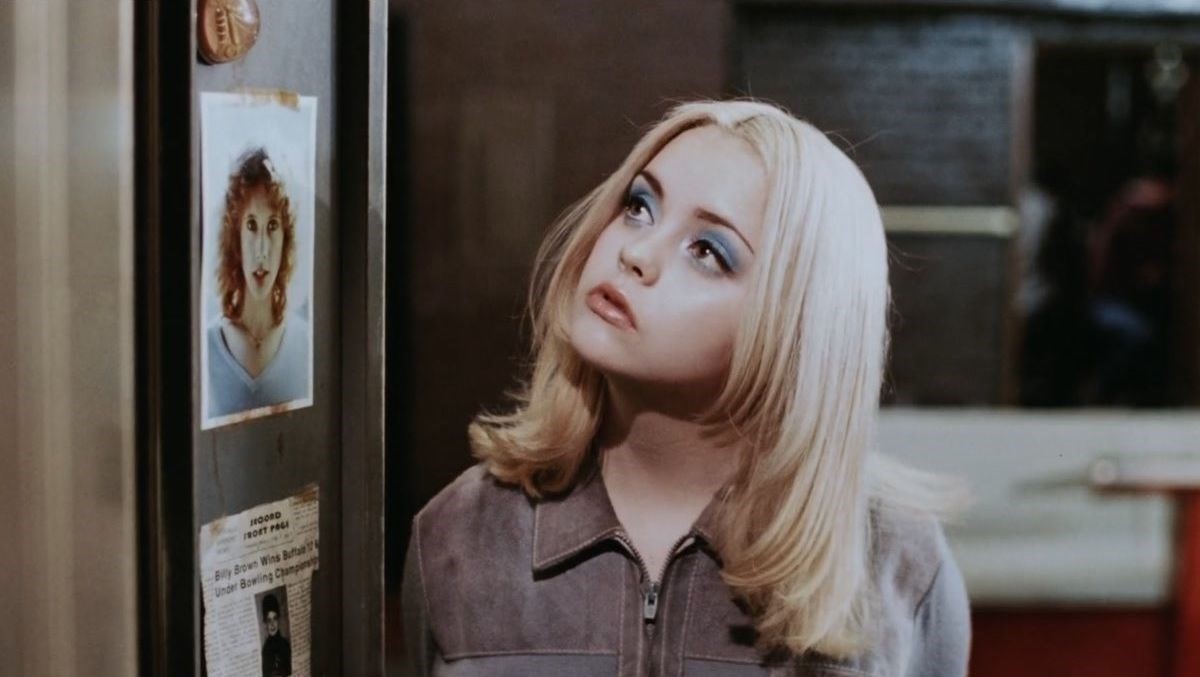 …
Dazed: Depending on where you sit in the cultural landscape, blue eye shadow could remind you of Christina Ricci's demure gaze in Buffalo 66, Divine's eye shadow in John Waters' filthy masterpiece Pink Flamingos, sarcastic teenage it-girl Maddie Perez in Euphoria – or perhaps all three.
The concept of eye shadow goes back to ancient Egypt, where men and women would wear black and green mineral powders to ward off bacterial infection. But the shade of blue first made its way into films in the 1960s, when the youthquake movement and the birth of drugstore make-up coincided with the release of Elizabeth Taylor's Cleopatra.
Since then it's come to symbolise a certain type of character and is host to a multitude of contradictions. The look is both timeless and retro; subversive and innocent. The girls (and boys) who wear blue eyeshadow are bad, wild and free. This is further cemented in the real world by the likes of PJ Harvey, whose signature look on stage in the 90s included bright blue eye shadow and a provocative smile.
Despite the rockstar tick of approval, by the early 90s, you wouldn't catch most everyday women wearing the shade. Neutral tones and bronzed make-up came to be considered more tasteful, while colours, especially blue, increasingly became associated with the 80s and its kitsch, tacky aesthetic. However, while the look may have gone underground, it never truly disappeared completely.
Alternative It girls like Effie Stonem in Skins persisted in wearing the look, while Drew Barrymore's Charlie's Angels character Dylan goes for blue when she needs to seduce on a mission. Blue eye shadow was all over the game-changing Euphoria make-up, and was worn recently in the record-breaking Netflix series Wednesday, where the high school's queen bee Bianca Barclay wears it to convey her powerful status. Today, internet favourites like Bella Hadid, Chloe Cherry, Ajani Russell and Rina Sawayama are bringing the look back IRL and you can be sure of seeing it a lot more over the next few months.
…
Below we unpack the best blue eye shadow moments in the history of cult cinema.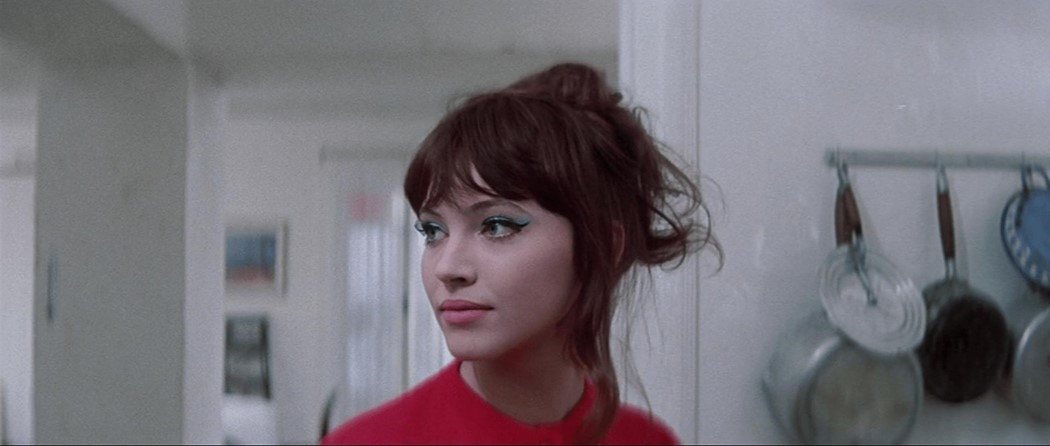 UNE FEMME EST UNE FEMME (1961)
…
It makes sense that the first film released to feature blue eye shadow is French, and one starring the muse of French New Wave cinema, Anna Karina. The first in-colour film by Jean-Luc Godard, and famously the director's most playful work, tells the story of a stripper (Karina) who yearns to be a mother and whose live-in boyfriend (Jean-Claude Brialy) "isn't ready yet". To make him jealous, Karina pursues another man (Jean-Paul Belmondo), driving the two crazy with her doe-eyed stare. Her famous blue eyes are emphasised by the matching shade of shadow above.
,,,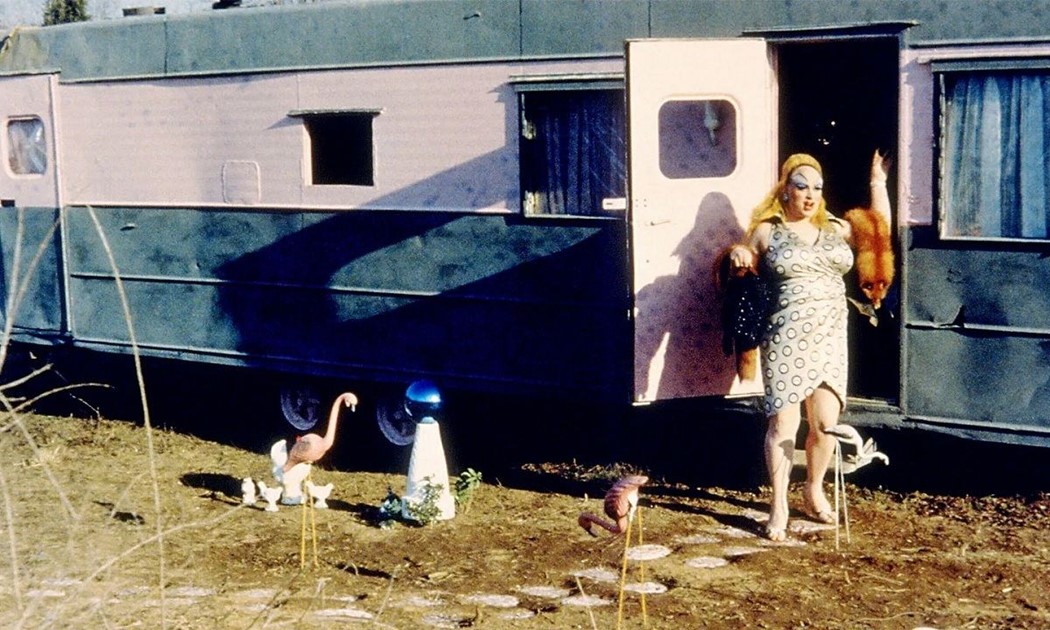 PINK FLAMINGOS (1972)
…
When John Waters released his now cult classic in 1972, it took a while to find its audience, due in part to its content being so outrageous for the time (it was only widely distributed a decade later). The film stars Waters' childhood friend and muse Divine, a countercultural drag queen competing against another group of social outcasts for the title of "Filthiest People Alive" in 70s Baltimore. Clad in a red cocktail dress, cha-cha heels and blue eye shadow reaching to her eyebrows, the legacy of Divine had Variety reassessing the film in 2022 from its original review of "vile, stupid and repulsive" to "one of the greatest movies of all time".
…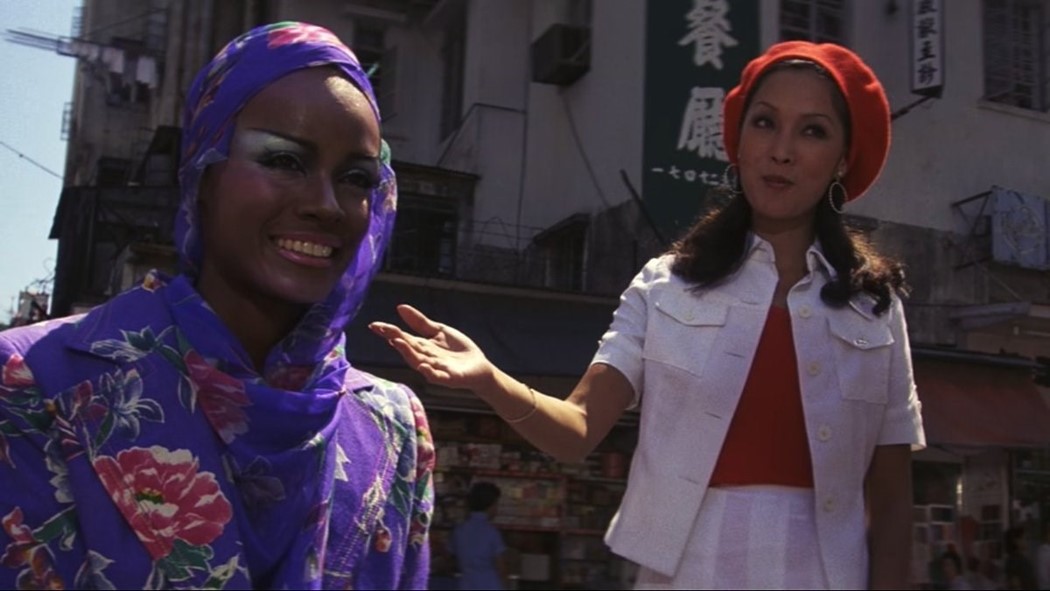 CLEOPATRA JONES AND THE CASINO OF GOLD (1975)
…
From the outside, Cleo (Tamara Dobson) is a glamorous supermodel, travelling the world for photoshoots in exotic locations. But in reality, she's an undercover agent and James Bond-like heroine who uses fashion and beauty – exaggerated make-up made of blue eye shadow, bright pink blush and shimmering pink lip gloss – to distract from her real agenda. Throughout the entirety of this 1975 action-adventure film, and its 1973 predecessor Cleopatra Jones, its starring character's incredible sartorial taste and over-the-top make-up – which Jones applied to herself – is almost enough to distract from her incredible display of martial arts.
…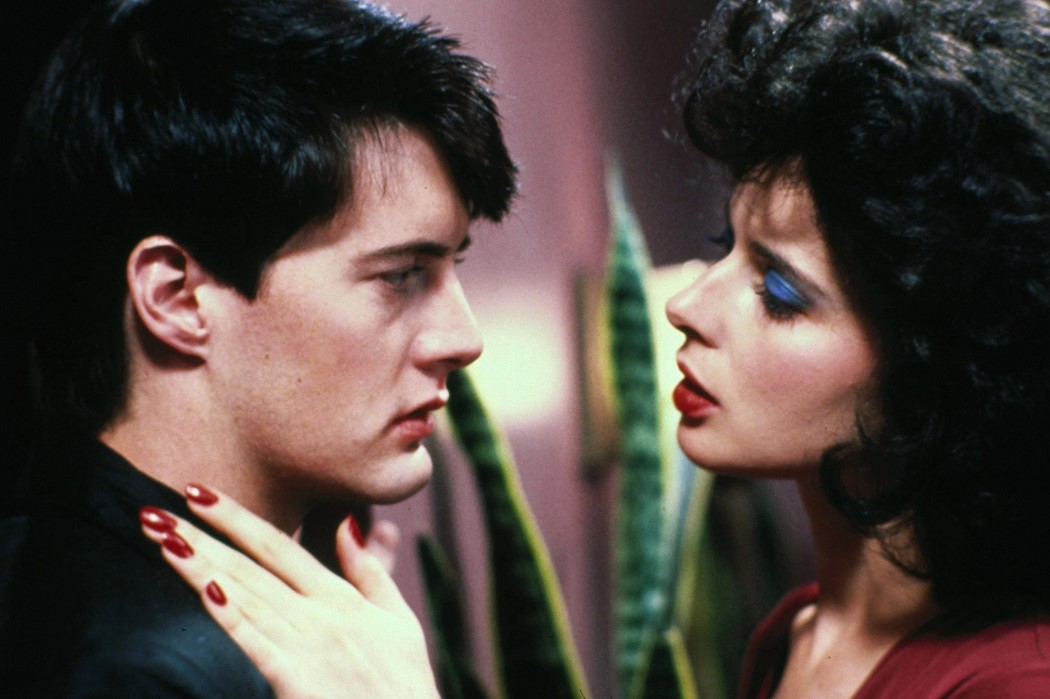 BLUE VELVET (1986)
…
One of the most memorable scenes in David Lynch's surreal neo-noir Blue Velvet comes courtesy of Isabella Rossellini, who appears on stage as the mysterious and beautiful lounge singer Dorothy Vallens. With a red velvet backdrop and piano playing in the background, Vallens captures the crowd in her sparkling black dress, tight tousled curls, blue eye shadow and a bright red lip. She quickly draws college student Jeffrey Beaumont (Kyle MacLachlan) into her dark, twisted world, proving blue eyeshadow can be deadly.
…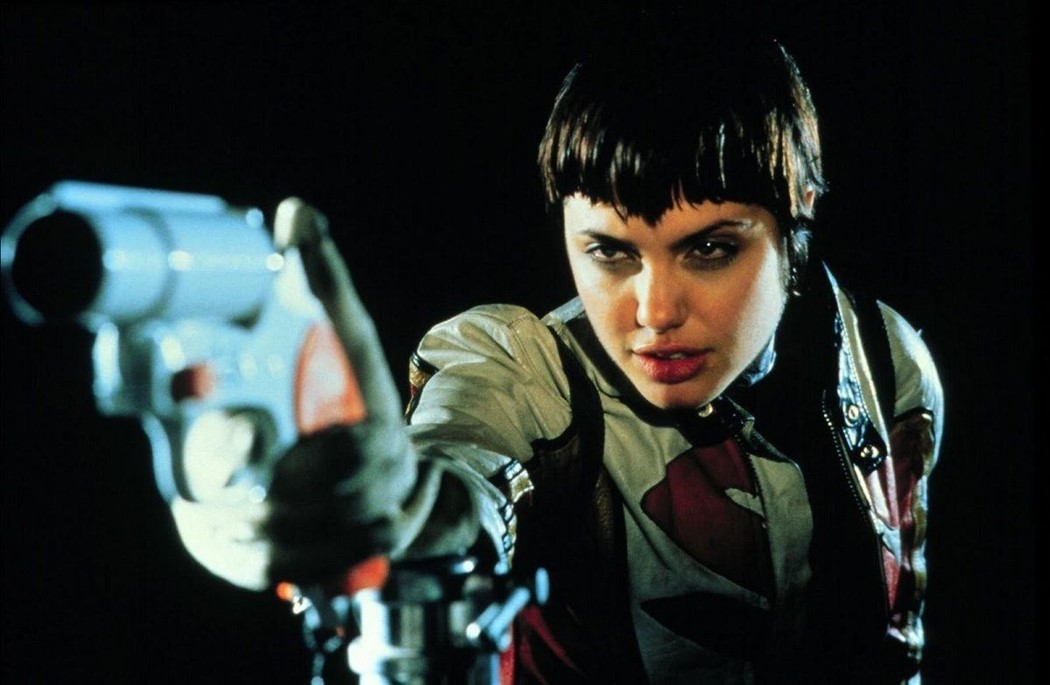 HACKERS (1995)
…
There's almost no point in talking about the allure of the alternative It girl without mentioning Angelina Jolie, particularly her role as Kate Libby in Hackers. The film, which follows a group of teenage hackers who get caught up in a corporate extortion conspiracy, was panned at the time of its release, but has since gone on to gain a cult following. This is due, in part, to the incredible 90s wardrobe. Cargo pants and crop tops are finished with Jolie's pixie cut and blue eyeshadow, which is also on her lower lash line, a graphic black eyeliner and plum metallic lipstick.
…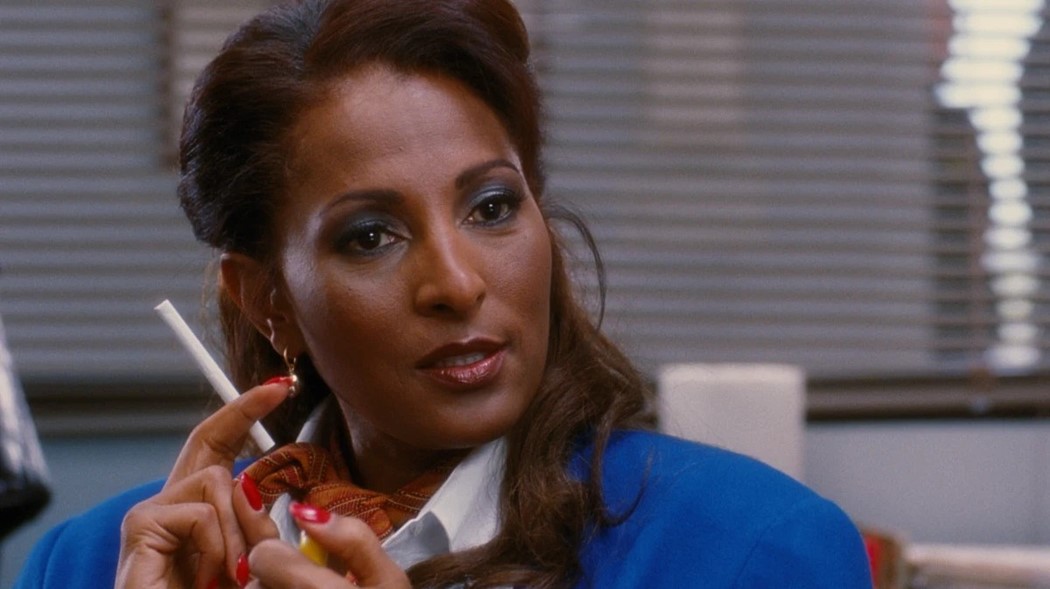 JACKIE BROWN (1997)
…
In Quentin Tarantino's Jackie Brown, the only film by the director that's not an original screenplay (based on Elmore Leonard's classic novel Rum Punch), Pam Grier stars as flight attendant Jackie Brown, who gets busted smuggling money for her arms dealer boss (Samuel L Jackson). Under pressure to become an informant, Brown must find a way to secure her future without getting killed, all while wearing blue eyeshadow that matches her flight attendant uniform, perhaps used by the beauty department to convey Brown's apparent innocence to those around her.
…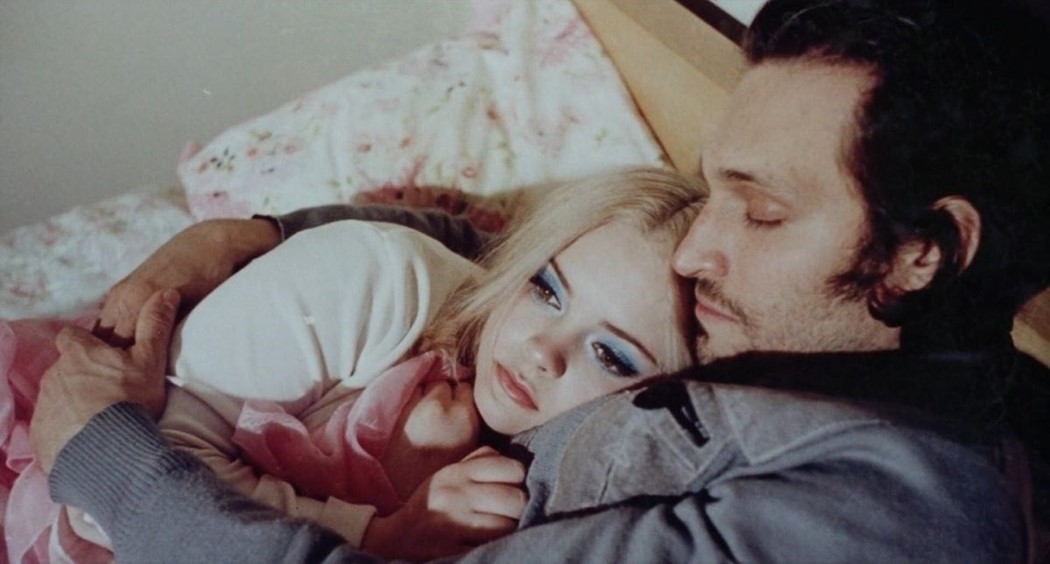 BUFFALO 66 (1998)
…
Christina Ricci dressed in a white cardigan, pastel blue dress, light blue tights and a sparkling pair of Mary Jane's was Lolita personified, long before Lana Del Rey. Ricci's blue glitter eye shadow across the entire eyelid, with a thin line of the same colour on the lower lash line, completed the now-iconic look. Gucci Westman, the film's make-up artist, explained in an interview that she made the choice because she wanted Ricci's character to suggest not only "a dreamy innocence," but also the idea of a girl who was "in her own world", whose eyes could "offer a way out".
…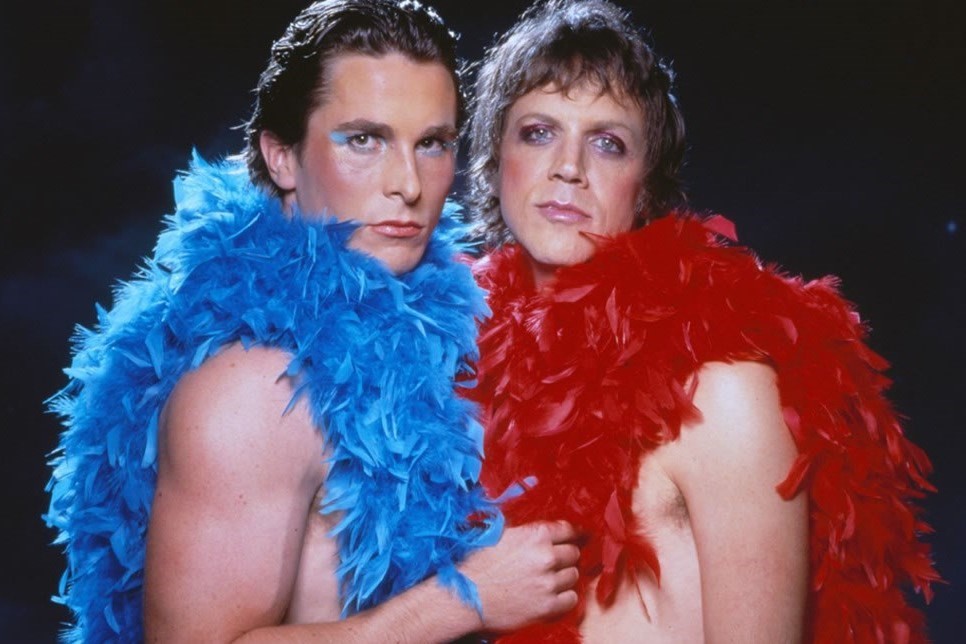 VELVET GOLDMINE (1998)
…
Todd Haynes' cult 90s film stars Ewan McGregor, Christian Bale, and Jonathan Rhys-Meyers. The pseudo-Bowie biopic (it's named after a Bowie song of the same name) is set in Britain's 1970s glam rock era, and tells the story of a fictional bisexual pop star, Brian Slade (Meyers), who fakes his own death. Using make-up and fashion in the most camp of ways, Velvet Goldmine plays with gender, identity and sexuality, with Haynes saying at the time his wish for the film was to "turn every gay person straight, and every straight person gay".  To top it all off, Bale wore glittery blue eyeshadow to the film's premiere.
…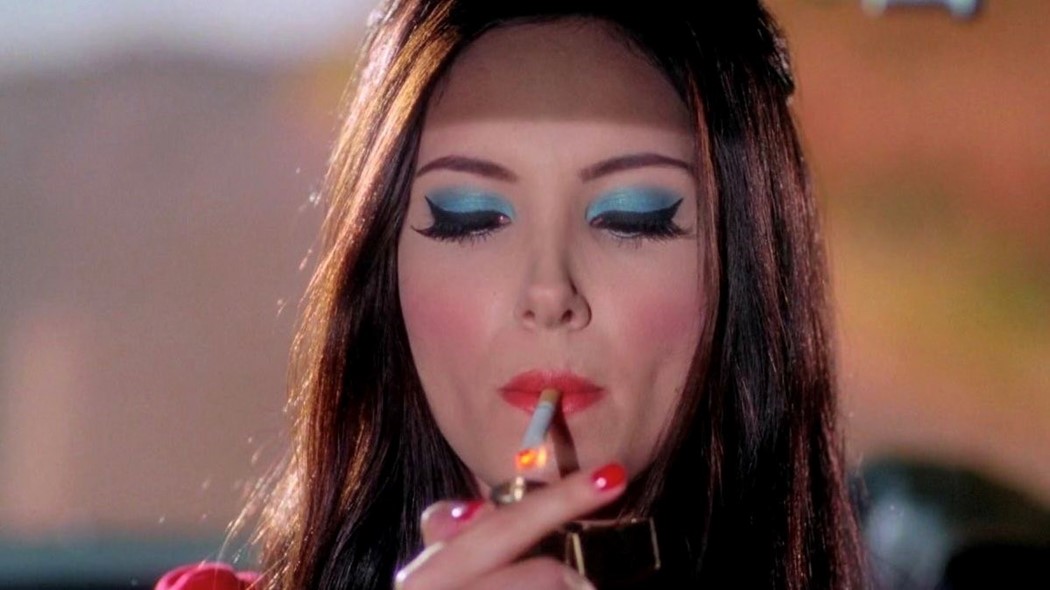 THE LOVE WITCH (2016)
…
The Love Witch could be watched entirely for its aesthetics. The 2016 film, directed by Anna Biller, is set in the 1960s, with everything from the costumery (all of which is vintage or hand-sewn from vintage patterns) to the way it's shot (on film using coloured technicolour processing) transporting you to the decade. But perhaps the main thing that stands out about Elaine (Samantha Robinson), a beautiful young witch desperate for love, is her eyes.
Decorated with ice blue sparkly eyeshadow and a thick black cat eye, as well as curly eyelash extensions, Elaine's eyes are a portal to her soul. Throughout the film, as she searches for love, using hallucinogenic potions to make men fall in love with her before getting what we now know as The Ick. Make-up artist Emma Willis changes the eye shadow colour from blue, to green, or purple, depending on the witches' mood.
…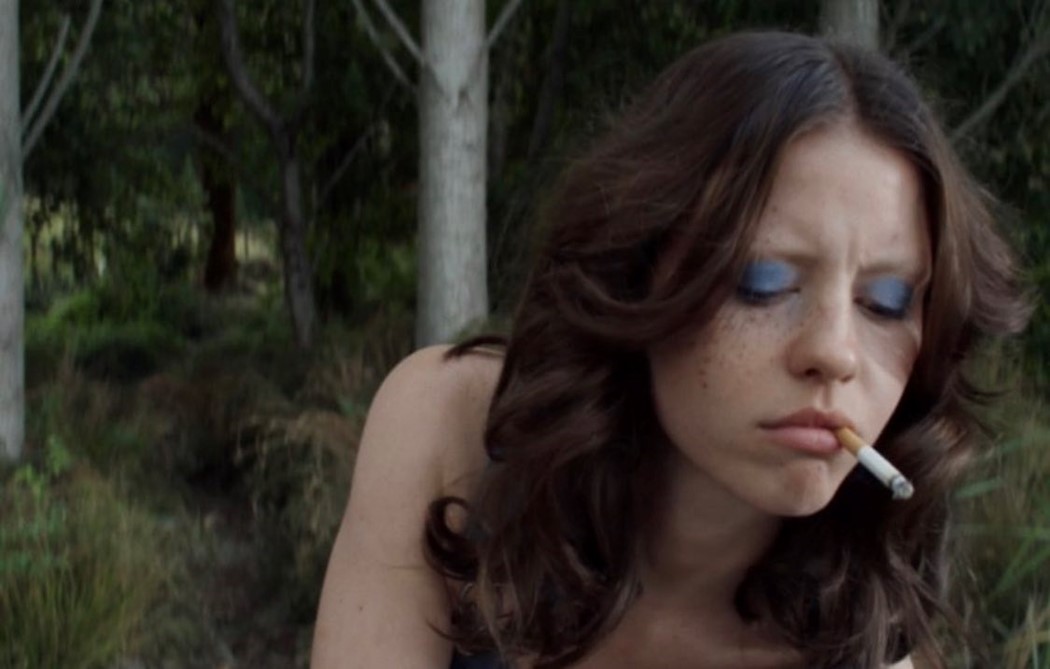 X (2022)
…
In Ti West's A24 70s set slasher, X, Mia Goth plays Maxine, a young and untamed aspiring actress looking for fame, who links up with a group of actors to film their first movie. To show Maxine's youthful naivety, she's depicted with denim overalls on, a spattering of freckles on her nose, pigtails in her hair and blue eyeshadow covering her eyelids. Without giving too much of the plot away, in a similar vein to that of the previous films mentioned on this list, the make-up choice seemingly hints that all is not what it seems when it comes to Maxine's girlish innocence.
…
Get the look: 

blue eyeshadow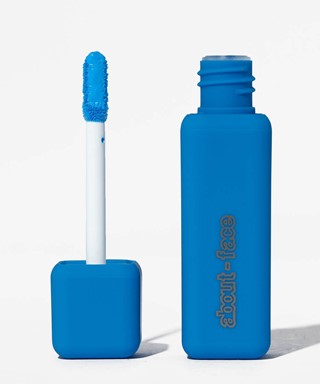 ABOUT FACEMatte Fluid Eye Paint – Blue Monday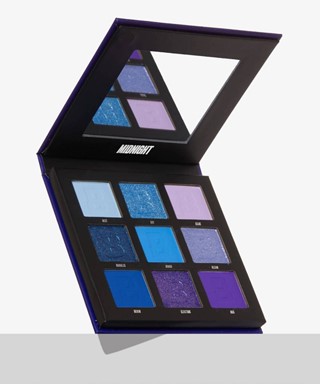 BY BEAUTY BAYMidnight 9 Colour Palette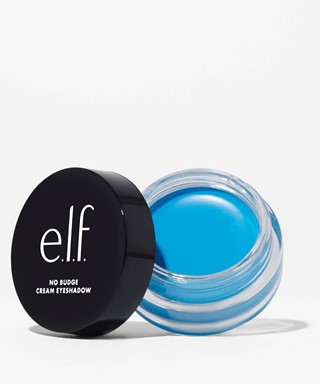 E.L.F. COSMETICSNo Budge Cream Eyeshadow – Oasis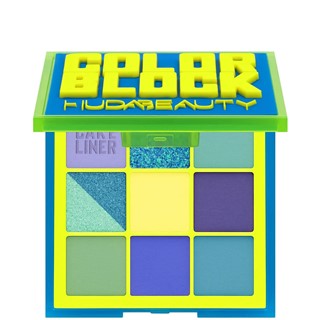 HUDA BEAUTYColor Block Obsessions Eyeshadow Palette – Blue and Green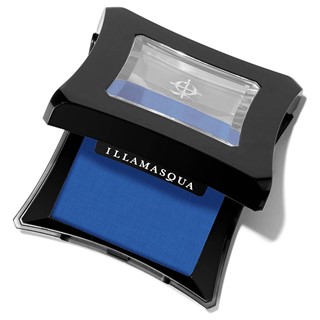 ILLAMASQUAPowder Eye Shadow – Sadist