HIGHSNOBIETY: Billie Eilish and I are wearing the same thing: striped button-ups under navy sweaters, piles of silver-chained jewelry, and chunky, matte shoes over black ankle socks. It's the type of on-the-nose coincidence I couldn't make up, even as a writer who seeks the most diminutive meanings in the tiniest of interactions.
…
Fall in Los Angeles is windy, but it's hot outside — nonetheless, we've both resorted to oversized menswear. Style is, as she puts it, "a deeply personal" and "intimate experience," and Eilish's commitment to thick fabrics and billowing silhouettes despite the heat is what makes her Billie Eilish.
"When I meet people who don't care about clothing — what they wear and how they wear it — it boggles my mind," she says as she sits down at her favorite studio in Eagle Rock, not far from where she grew up in Highland Park. The 20-year-old also proves immediately introspective about the fashion industry. "There's a performative nature to fashion week that really pisses me off, because I'm like, 'Please pay attention to the clothes,'" she says as she pulls back her hair (which is, at the moment, brushed and black). Right now, she's drawn to wearing dusky colors and pairing symmetrical patterns with other prints. It's also why she finds our matching uniforms to be all the more kismet: Fashion is not only a "driving force" for Eilish, but a means to communicate and connect with who she is on any given day.
…
It's a beautiful thought to have — that Billie Eilish and I share an inexplicable yet singular connection within seconds of locking eyes — but I'm certainly not the first to feel this way. "I can't believe people are so emotional about me," she reflects, having just wrapped a global tour in Australia. "I'm not a crier, but I felt it at my last show. I just looked at [my fans] and cried." Eilish's fans harbor profound attachment to the singer, and as we spend more time together, it becomes easier for me to understand why. Eilish is contemplative and energetic, present with (and curious about) how she may or may not be perceived. Even when she's retelling fragments of answers that I've heard her say in other interviews, she makes eye contact like she's telling it all to me for the very first time. I've felt this same kinship toward her listening to her music and seeing her in arenas. When she's performing, she speaks candidly about growing up between songs ("Anyone else really fucking sad?") and welcomes shrieks even when she's whispering one of her earlier, more quiet songs ("Scream with me if you hate yourself"). It's a rare gift to be able to give that space to anyone, and she's aware that her mere existence signals to her fans that it's okay to be a young person — to wear whatever the fuck you want, to be sad, to change your mind about who you are.
…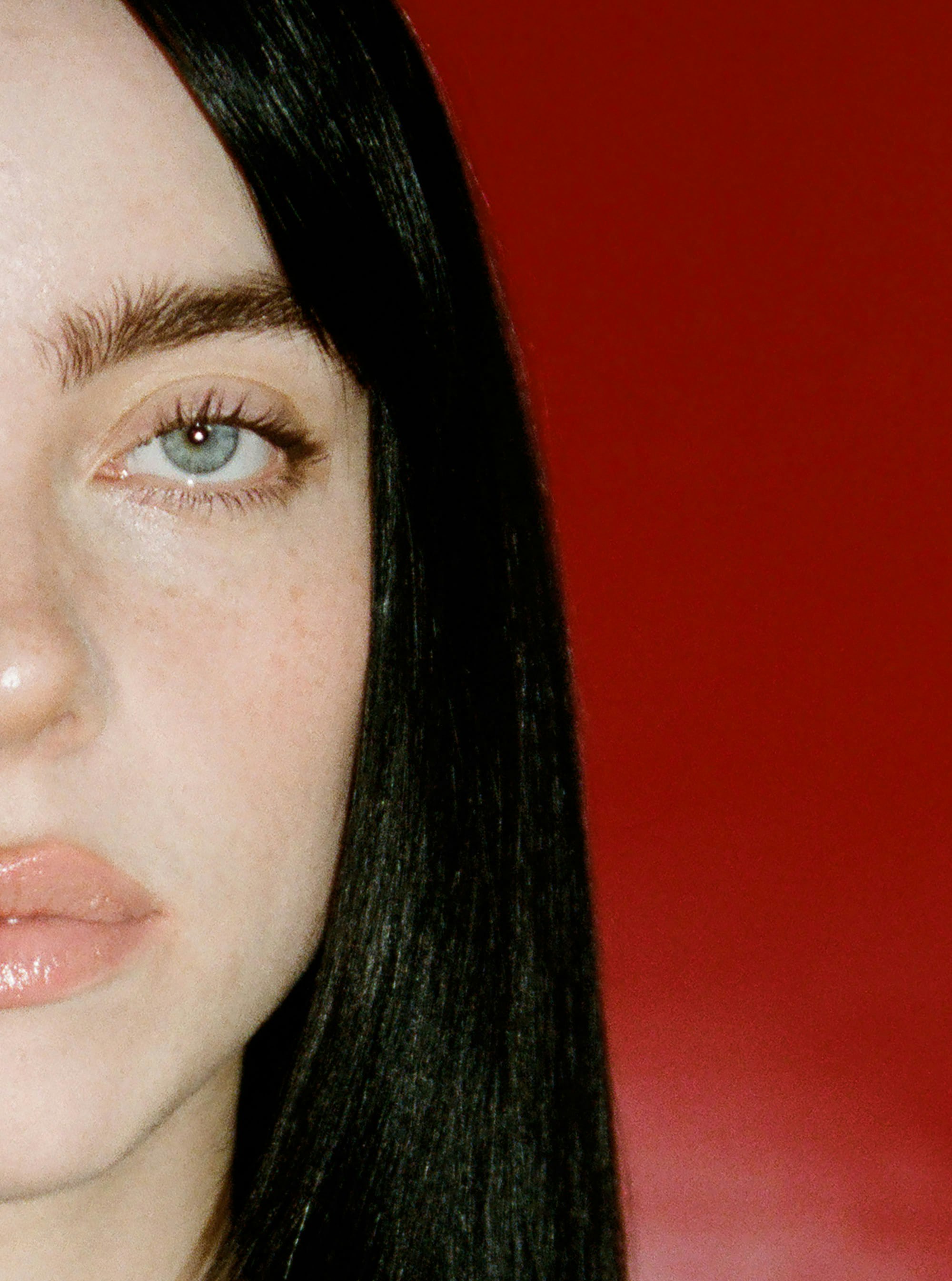 Coat YOHJI YAMAMOTO Skirt and Shoes MARC JACOBS
…
Other songwriters have found massive audiences from their bedroom, but Eilish has simultaneously become an all-inclusive emblem of Gen Z across all demographics. My teen sister hangs a 2019 bright-green-haired Billie Eilish poster above her bed; brands like Gucci and Nike plaster her face across billboards and high-budget campaigns; legacy cultural institutions such as the James Bond franchise and Saturday Night Live beg her to attract new audiences. It's incredible that this one person — even just the idea of her — is the youth, whatever that means. Eilish has become the face of this incredibly online, self-aware, and statistically sad generation, a responsibility she never asked for but seems to intuitively understand is worth taking seriously.
…
It can all be traced back to 2016 when millions discovered "Ocean Eyes" on SoundCloud. After a swift courtship with the music industry, she recorded her debut record,When We All Fall Asleep, Where Do We Go? , in her brother Finneas' bedroom. That was 2019 — before the massive tours and a record-breaking number of Grammys, the Coachella performance, the two-hour-and-20-minute-long documentary, or the Oscar. It felt like it happened overnight; a young, bright-green-haired Eilish was suddenly everywhere, jumping around in baggy basketball shorts, twisting her ankle onstage, rarely sporting makeup, and taking out her Invisalign. When We All Fall Asleep, Where Do We Go? was genius for how it documented her early adolescence abstractly, while her sophomore record — Happier Than Ever, which came out just last year — presented an entirely new side of the artist. The album opens with a song detailing her maturation ("I've had some trauma, did things I didn't wanna / was too afraid to tell ya, but now, I think it's time"). It went on to explore topics from misogyny and abuse to masturbation and sex, presented alongside a change in creative direction: When the album came out, Eilish dyed her hair bottle-blonde and started wearing form-fitting, and often pink, clothing.
…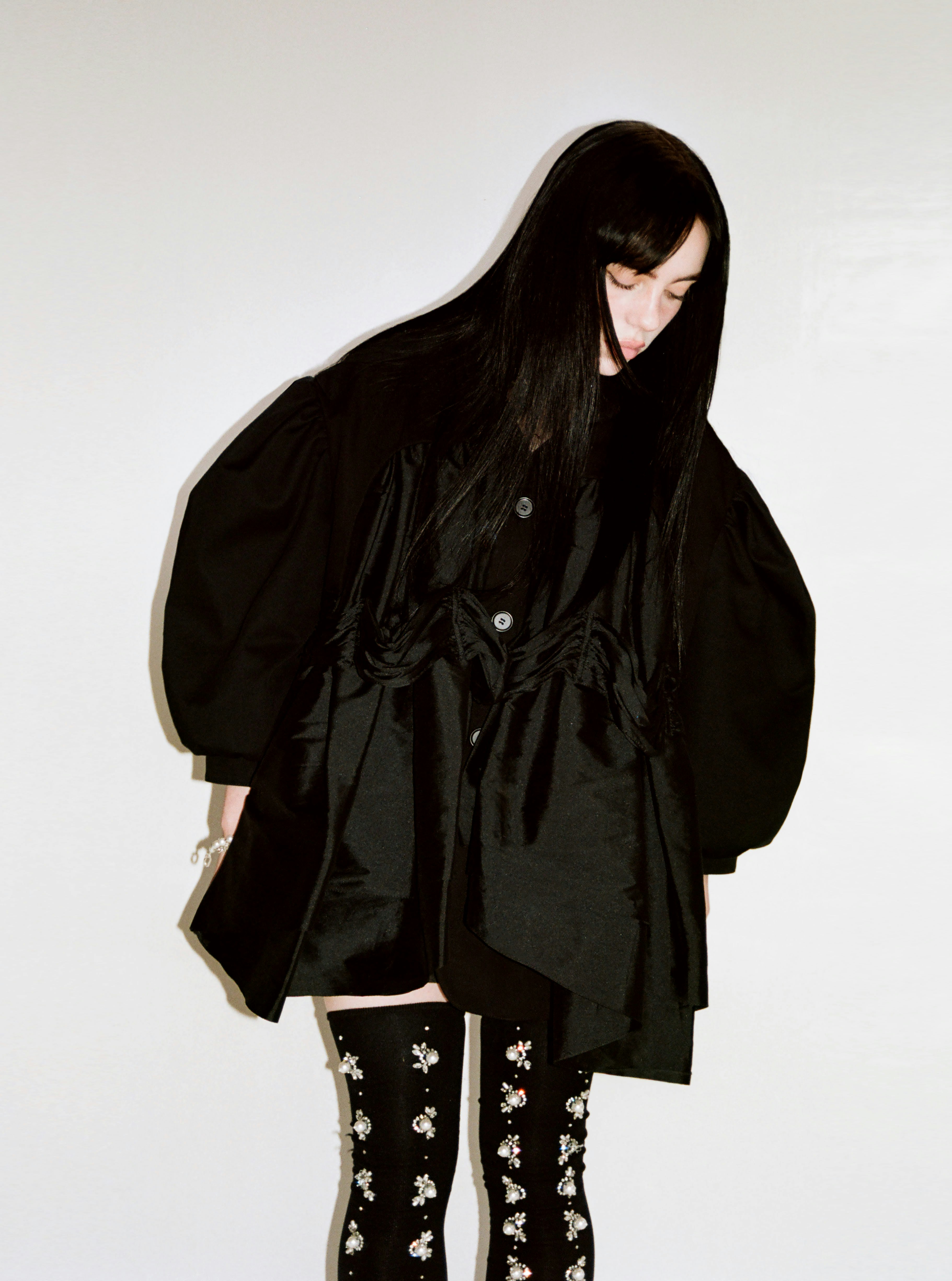 Jacket, shorts, and socks SIMONE ROCHA
…
"People saw me as this 15-year-old, a kid, who wore this kind of stuff, looked this kind of way, acted this kind of way, said this kind of way. I felt like I couldn't change. That's why I went so far to the other side," she says. "I was trying to prove, 'Hey, fuck you guys, I can do whatever I want.' Now I can look really masculine if I want, and really feminine if I want, and it's not gonna be a fucking headline." It was a fun game, she says, shrugging her shoulders, but she's firm that that's all it was: "It's not that you wear one thing, and that's your new style — you fucking keep wearing a bunch of shit."
…
That time in her life — just a year ago, an eternity at that age — taught her a lot. "I feel sexier when I dress masculine. I didn't feel sexy for one second of being blonde," she says, straightening her bangs. "When I was blonde, people treated me differently. People completely changed their demeanor [around me]." She stops herself, and explains her hesitation to go into greater detail. The Internet makes it hard to talk about "stuff like this" too candidly, she says. It's also why she rarely talks about her romantic relationships outside of her music. She's open to speaking about it all as a theoretical concept, though: "Falling in love is hard for me. It's a spooky thing, love. It's really spooky."
…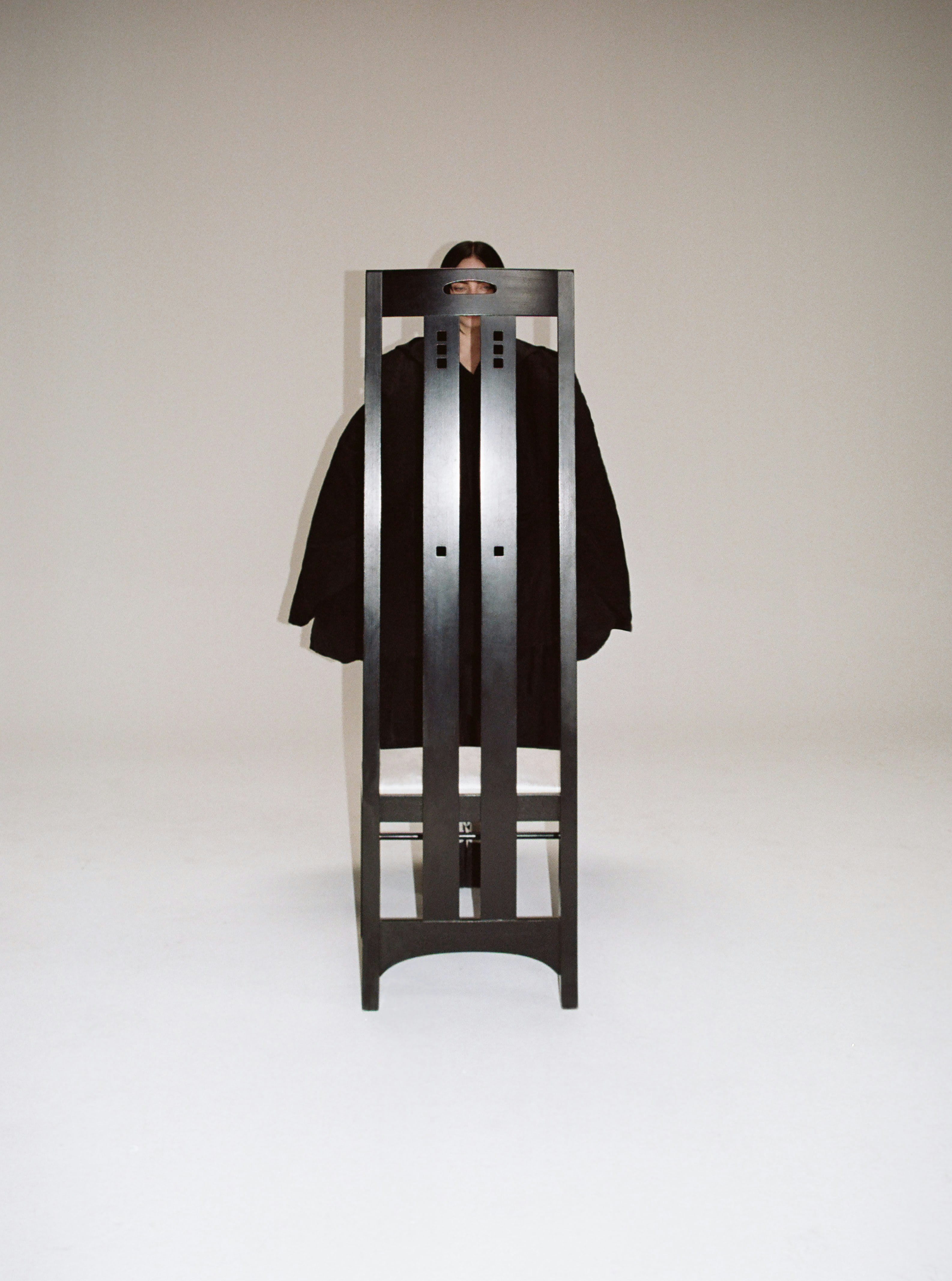 …
"We're figuring it out, man," Eilish says, adjusting her shirt. Now she wants me to smell like her, too. "It reminds me of kissing really passionately in the rain," she tells me, spritzing me with Eilish No. 2, the second scent she's launched under her name. Expanding one's empire to include fragrances is no longer a bold move for a pop star, but this is only the beginning of her business ambitions especially because she feels like she's earned people's trust now. "I think that people have taken me more seriously because I've had this more masculine [way of dressing] throughout my career," she adds. "If I had been more feminine and girly, people would've been a lot less respectful of me."
…
Excelling so drastically in such a short time can also be isolating, because it's an experience to which few people her age can relate. "Everything that I'm stoked and excited about, everything that is new in my life right now, someday I'll be like, 'Eh, okay. Move on. Ugh.' I could bawl my eyes out thinking about it." It's a sentiment she's articulated in her songs, too: "Things I once enjoyed, just keep me employed now" she sings on "Getting Older." It also explains why she doesn't waste time matching up to whatever idea people have of her; instead, she only cares about being "really good at it all." But, okay, still: What does it actually mean to represent an entire generation — to be the face of youth culture, to have taste and style, to have a point of view on fashion, to be visible, and to grow up all while having access to 106 million Instagram followers? We now feel so close that I just ask her.
"I don't have answers for shit," she says, smiling as widely as I've ever seen her.
…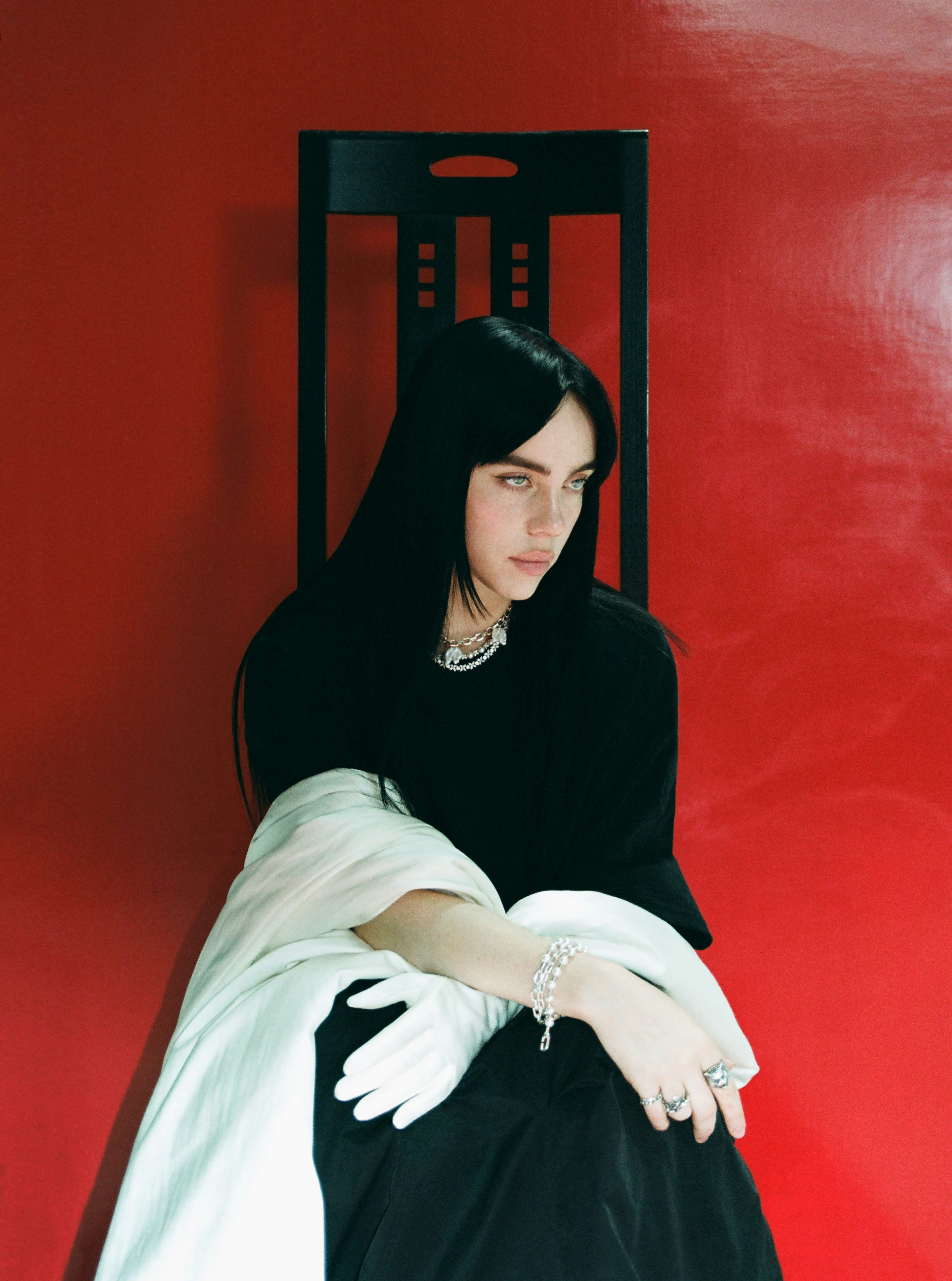 …
Top, skirt, and stole MARC JACOBS Top necklace SIMONE ROCHA Bottom necklaces and bracelet TIFFANY & CO. Rings BILLIE'S OWN
…
See more photographs from Billie's cover shoot exclusively on the Highsnobiety app
…