Photo: Courtesy of Disney
…
Oscar winners Camille Friend and Colleen Atwood create new memories through the live-action remake of the Disney classic.
Fashionista: In Disney's live-action remake of the 1989 animated classic, "The Little Mermaid," you will get chills — if not cry — when Halle Bailey belts out "Part of Your World" as Ariel.
She ends the number by leaping out of the sea and onto a rock to stare longingly at land. Her pearlescent mermaid costume (or scales and tail, rather) shimmers in the sunlight, and her famous hair flip — in dramatic slo-mo — completes the reimagining of that indelible scene.
The costumes by Colleen Atwood and hair design by Camille Friend help conjure the warm and fuzzy nostalgia, while simultaneously creating new memories and making an impact on the next generation of Disney fans — even before the film's release. Friend recalls a parent reaching out after the trailer came out, excited for the movie.
"I just really I started crying," she says. "Because when you're doing the work, you don't think about the big picture and how it really affects people. People were like, 'My little girl saw this, and I just want you to know.' That's special."
…
ARIEL'S NATURAL HAIR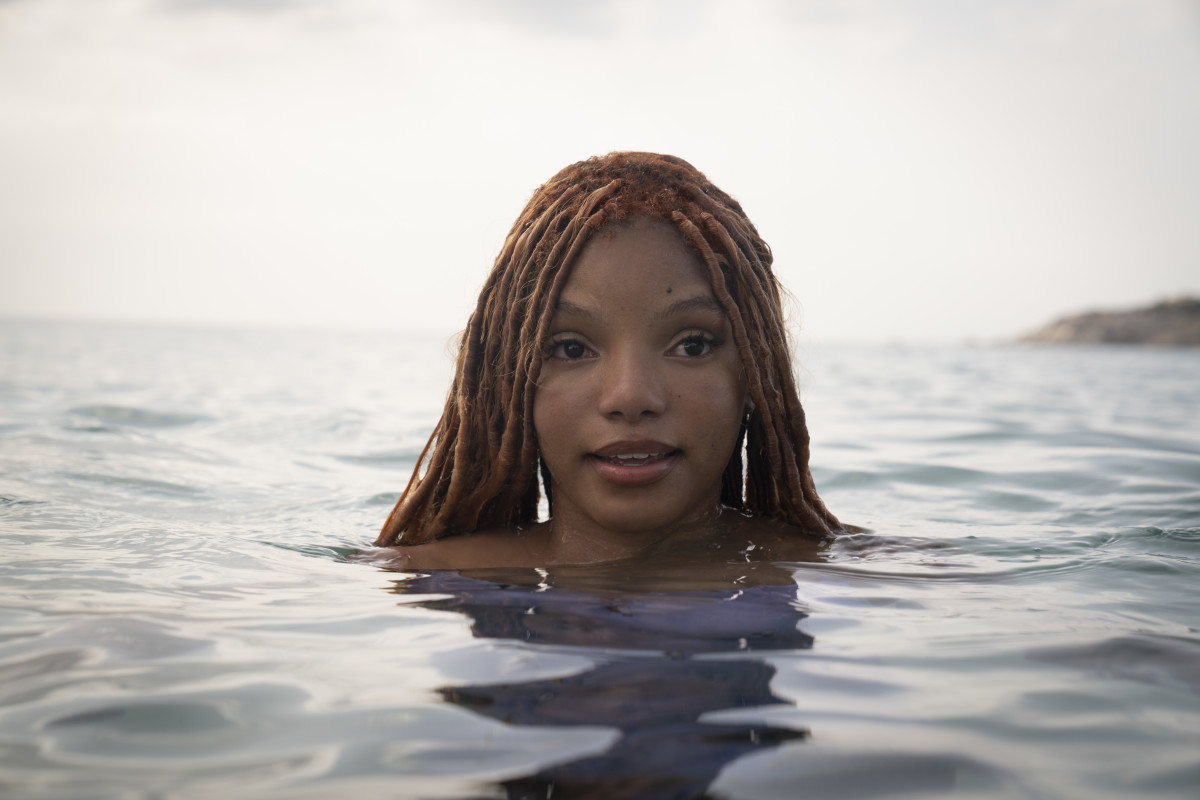 Bailey wanted to celebrate natural hair in her history-making turn as the first Black Ariel, telling the New York Times: "As Black women our crowns are so special to us. Our hair is important to us in every single way, so I was really grateful that I was allowed to keep that essence of me."
Friend — a veteran Disney and Marvel hair designer, who received an Oscar nomination for "Black Panther: Wakanda Forever" — joined the movie as the production was underway. "Halle needed somebody who was going to really figure it out and know what her hair was going to look like. So, they called me," she says. "What can we do to keep her hair natural, but get her in the Ariel look? How can we reimagine this?"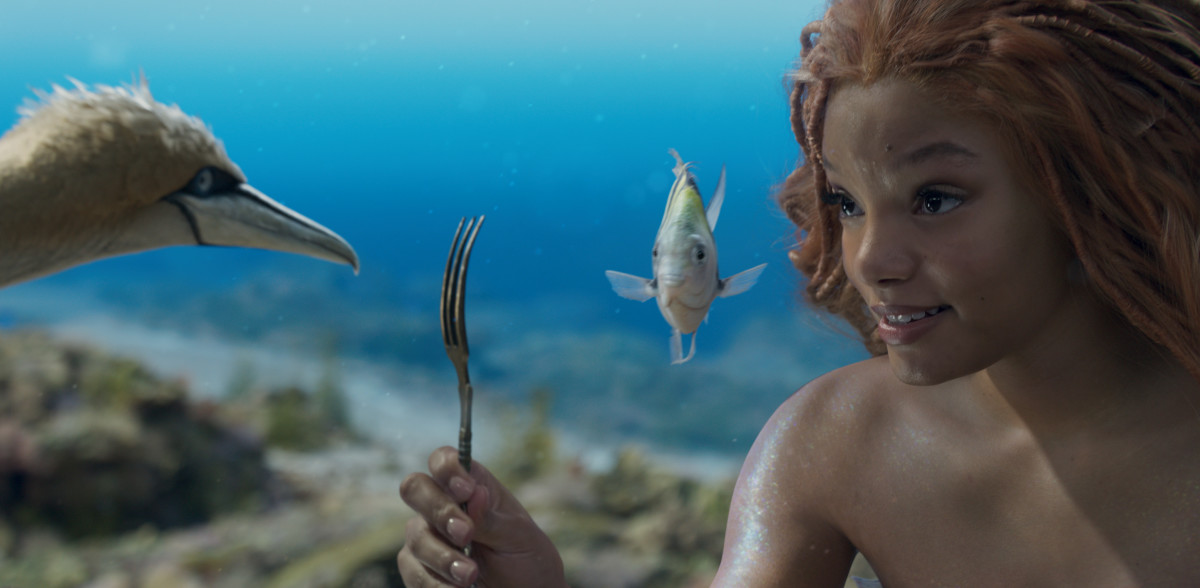 First, Friend chose Bailey's locs over a wig, but had to get creative to fulfill the need for Ariel's long hair to majestically float underwater — "because locs are dense," she says.
Concurrently, she adjusted the "red violet" hair color from the animation into captivating shades of auburn, achieved by custom-blending three colors that Helene Stahl of Extensions Plus then used to dye 30 inches of human hair.
"We intertwined and wrapped [the extensions] around [Bailey's] locs to create a different color," says Friend.
She created an Ariel wig for the visual effects team to reference for designing the CGI underwater sequences. She also had a physical trick up her sleeve for those billowing under-the-sea hair moments: Friend incorporated a "mono-filament," similar to a malleable wire base, to create structure.
"We sew the locs to be in certain places, so they move a certain way, when you want them to go this way or that way," she says. "It's movie magic."
…
ARIEL'S LITERAL MERMAID-CORE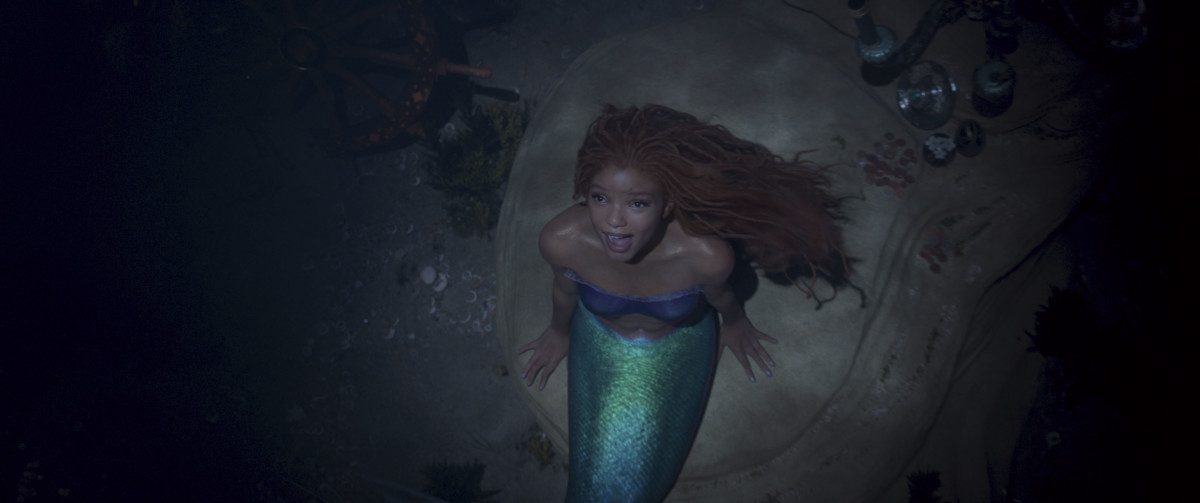 The live-action Ariel's prismatic color palette, which phosphoresces as she gracefully glides through the water, pays homage to the animated version's purple clamshell bikini top and sea foam-green tail. Atwood and her team designed bust-to-tail mermaid costumes, beginning with screenings of life-like fins and scales to determine the proportion on a human body. The visual effects team then scanned the full costumes to develop the CGI for the aquatic scenes.
"I liked the idea of tails and [fins] being see-through — that you can see water through them and movements," says the four-time Oscar winner. "They weren't just a stationary extension of the body."
Ariel's bustier-style top and basque-waistline tail are both delicately-trimmed with translucent fins that resemble a gossamer-like tulle. But Atwood emphasizes no fashion inspirations were involved — just practical aesthetics.
"When you really start designing and you have to transition from skin to scales — and not look creature-creepy — it was good to have a little something, a little detail, to break it up," she explains. "The same thing with the tops: I ended up going back in and adding an edge to all of them, so they separated from the body."
Ariel and her six sisters could comprise a mermaid girl group with their coordinating but distinctive colors, fish-inspired patterns and silhouettes. For instance, Princess Indira ("Bridgerton" season two's Simone Ashley) swims in a yellow-and-brown one-shoulder crop-top and matching tail, while Karina (Kajsa Mohammar) reigns in a glittery blue criss-cross, multi-strap, cut-out situation.
"Something to make them feel like dresses," says Atwood. "But not."
…
URSULA'S HAUTE COUTURE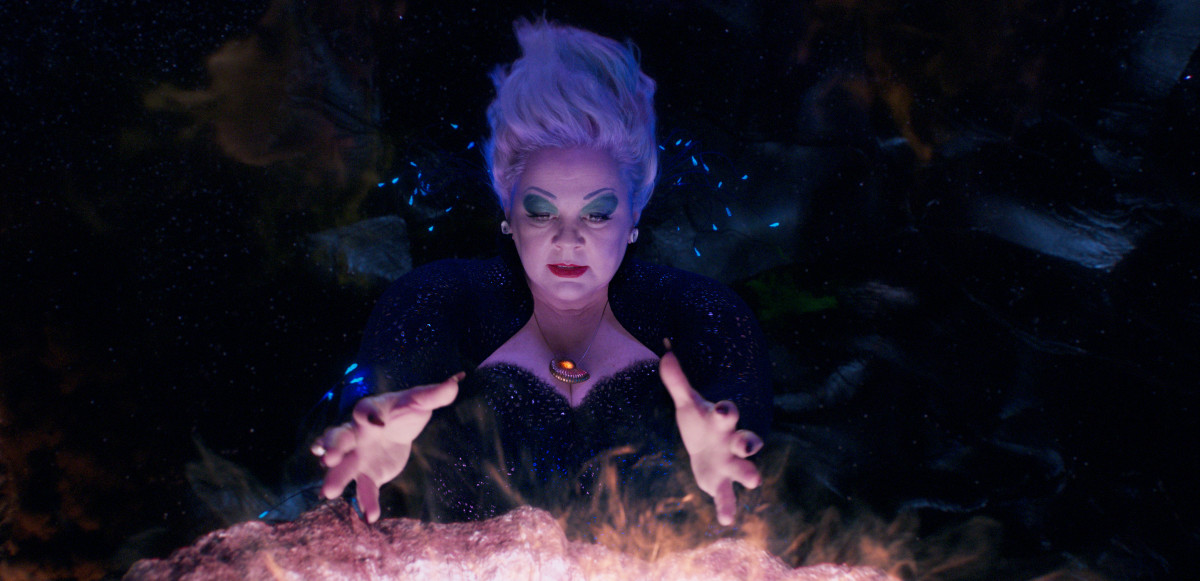 …
THIS $6 TEMPORARY HAIR COLOR WAX MADE ME FEEL LIKE HALLE BERRY IN 'X-MEN'
"She was a little Peggy Lee, a little [animated] Ursula combo," says Atwood of the glamorous, double-dealing, voice-stealing Ursula the Sea Witch (Melissa McCarthy, having the time of her life). "I felt like she was somebody that would wear evening clothes all day long. She never really got casual."
Ursula propels around her dark, murky lair in a sequined, long-sleeve, sweetheart-neckline bustier, which also conveys the octopi propensity for changing colors when in predator (or prey) mode. "I used a layer of purple-sequined fabric with a layer of laser-cut suede over it," explains Atwood. "So sometimes when she moved, you got that purple kick from it."
The glittering top transitions down into a skirt of eight octopus arms. Atwood and her team actually built the top half of the tentacles in order to construct a sculptural ballgown-reminiscent silhouette. Ursula's tentacles are lined with brilliant paillettes, as opposed to suction cups, which were enhanced with physical lights and CGI. Atwood also interpreted octopi retractable spikes as a high collar, accented with flickering lights. "It brightened it up, and it looked cool," says Atwood.
ARIEL'S OCEAN-INSPIRED BLUE DRESS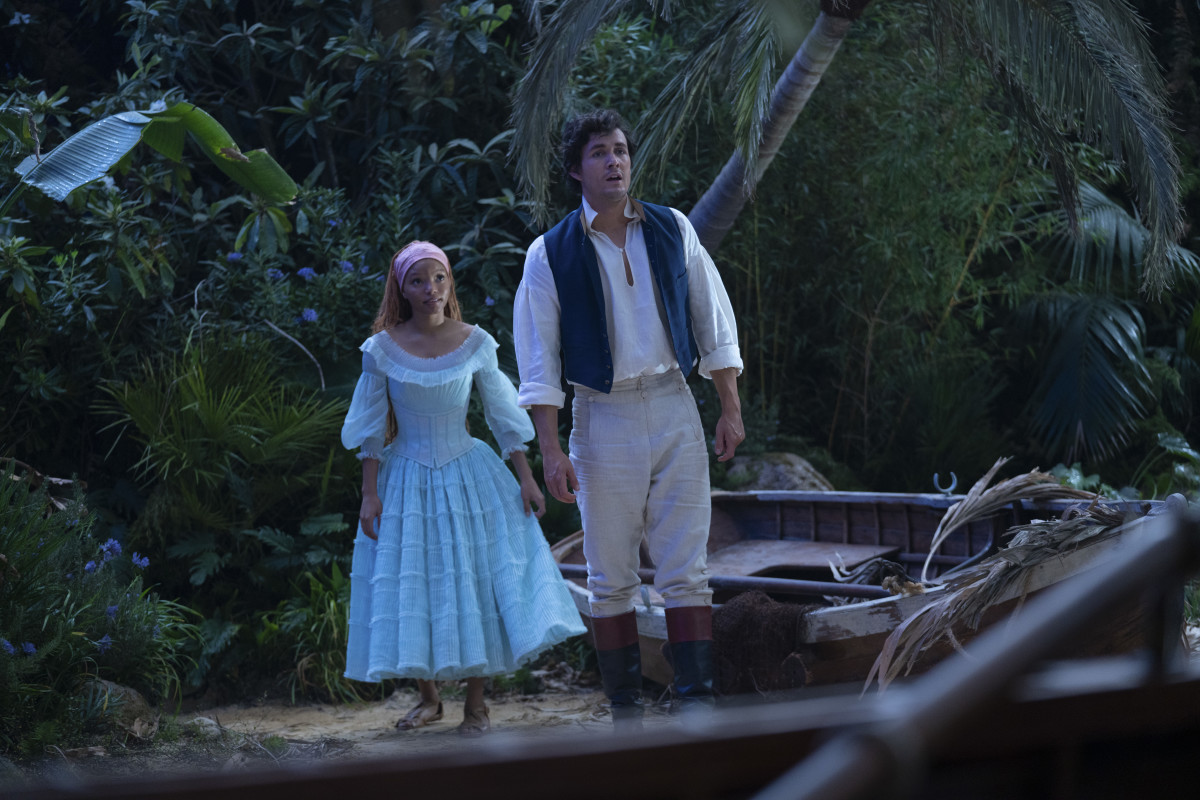 Ursula preys on Ariel's fixation on experiencing "life on land" and compulsion to rebel against the patriarchy, i.e. dad King Triton (Javier Bardem)'s restrictive rules. As we already know, Ariel trades her voice for the opportunity, as well as her tail for legs — and a dress.
After she reaches the shore of a fictitious and unnamed Caribbean island, Ariel is whisked away to the palace. There, the staff outfits her in period-inspired bloomers, a corset and a gauzy cotton organza confection, which Atwood "loosely based" on an 1830s silhouette that celebrates "the color of the sea" with its aqua hue. The dress also echoes the dynamic movements of marine life through its diaphanous fabrics and textures.
"I definitely wanted it to have quality — even with the skirt with the layers and stuff — to feel a little bit swishy, like her tail, but without being too obvious about it," she says.
The dress is full of allusions to Ariel's underwater origins, including technical "surface treatments" that mimic fish scales. Atwood created organic textures and prints to evoke coral through a popular early-19th century embroidery pattern on the corset. A specialized pleating, cross-sewing and flattening technique on the translucent fabric also add dimension, especially when there's movement, like dancing with the villagers on the beach and then later tumbling into the water (i.e., being tipped over on a boat by pesky Flotsom and Jetsom.)
"That put it into a fantasy of a period, more than the hardcore period, per se," says Atwood, who also brought up Ariel's hemline to a more contemporary, ankle-baring length.
…
ARIEL'S BEACH-Y WAVES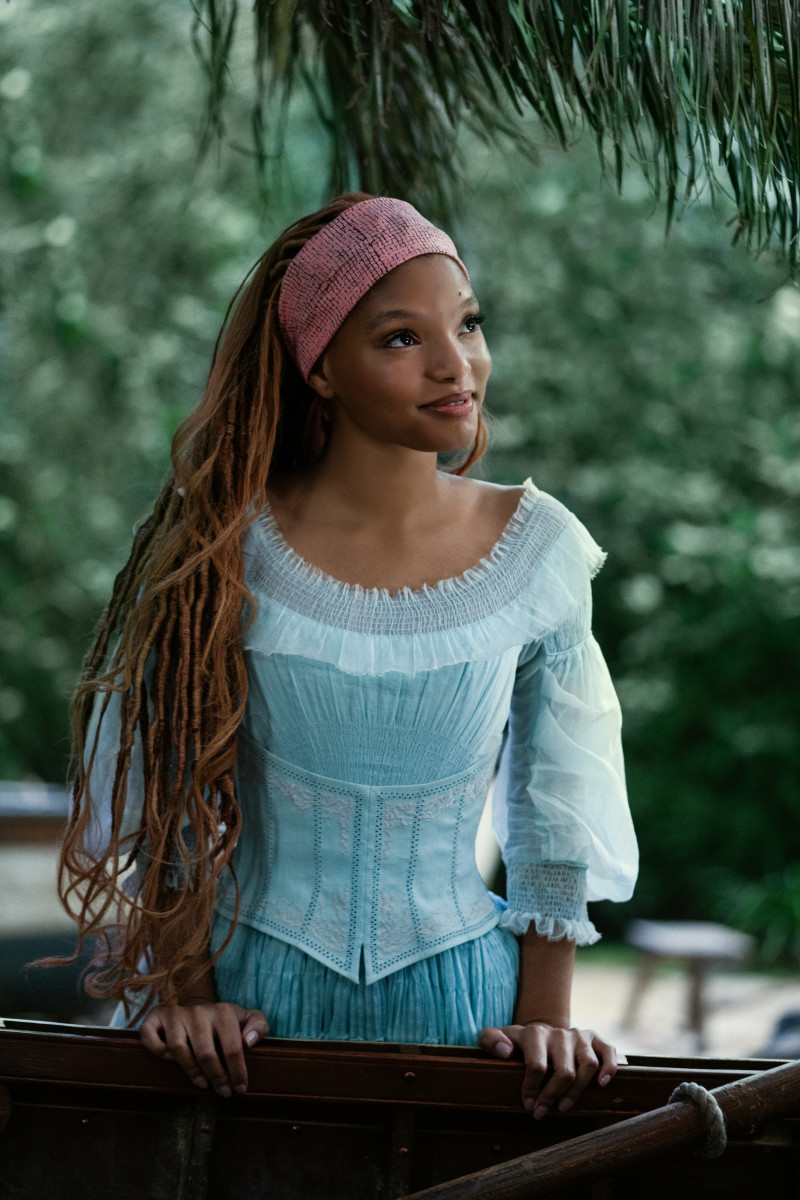 Ariel reflects her new island environment — and walking, but not talking, human form — with her locs styled in romantic waves "and a really beautiful headband," says Friend.
For the carefree, beach-y vibe, Tiffany Williams, who handled Bailey's daily styling, wrapped "loose pieces" of hair around a GHD Classic Wave Oval Curling Wand.
Even though Ariel is far from home, she still honors the sea through her hair accessories.
"I called them accoutrements," says Friend, about little seashells, bits of gold and delicate jade pieces woven (and almost hidden) into Ariel's hair. "All those little pieces are the reminders of who she was and who she is."
…
KING TRITON'S COMMANDING ARMOR AND CROWN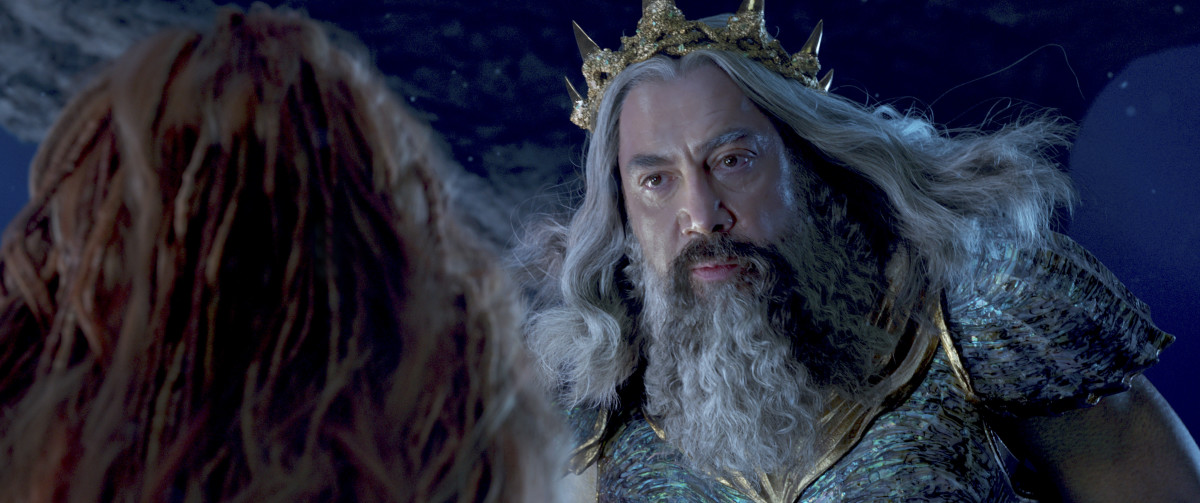 Shirtless in the animation, King Triton now commands in iridescent armor befitting a royal warrior.
Atwood collaborated with sculptor Jose Fernandez — owner of the superhero costume designer go-to, Ironhead Studios — to first build a mini-version of the Triton ensemble on a maquette. They even created a lightweight abalone, shell-like material to be hand-applied onto Bardem's life-size costume. (Fittingly, abalone is also considered a symbol of water by some cultures around the world.)
"It's all handmade, so it really feels like somebody made it for him from from materials from the sea," says Atwood. "His crown are giant shark teeth, held together with a seaweed."
…
ARIEL'S OCEANIC EASTER EGG-FILLED FINALE DRESS
Spoiler alert: Ariel gets her happy fairy tale ending with Prince Eric (Jonah Hauer-King) and the support of her family. And like the animation, she finishes out the story in a pink dress, which Atwood designed with a practical backstory. (Sadly, photos aren't yet available, but we'll update this story when they are.)
The top layers of the dress are piña, or pineapple silk, made out of the cellulosic fibers of pineapple plant leaves. Atwood was drawn to the light and crisp texture of the biodegradable material, which dates back to the Spanish colonial period of the Philippines.
"I liked the idea that, conceivably, they could have made the fabric on the island," says Atwood, pointing out the neutral piña was then layered over a light pink fabric. The square patterns on the bodice bring fisherman's netting or fish scales to mind. The detailed coral-pink embroidery on the skirt tiers offer more Easter eggs.
"[The embroidery] was all kinds of sea life, like little squids — without getting too cute with it," says Atwood. "But it was fun. It's her world, and they're the things she loved. It's her wedding."
…
…