Like many in service-based industries — which make up 
25% of the U.S. work force
 and employ more women than men — Hollywood's leading makeup artists, hairstylists, and 
nail professionals
 have become unemployed virtually overnight as a result of the pandemic. Freelance celebrity hair colorist 
Cassondra Kaeding, who had just started working with Kylie Jenner
, says her entire calendar was wiped clean in an instant. "If our clients aren't working, we're not working," Kaeding says. Hairstylist 
Jenny Cho
 had just wrapped an in-salon training in London, worked with Lucy Boynton for the Chloé show during Paris Fashion Week, and finished an ad campaign with Ana de Armas before making it out of Spain right as travel advisories were being put into place. "I literally got home in the nick of time," she says.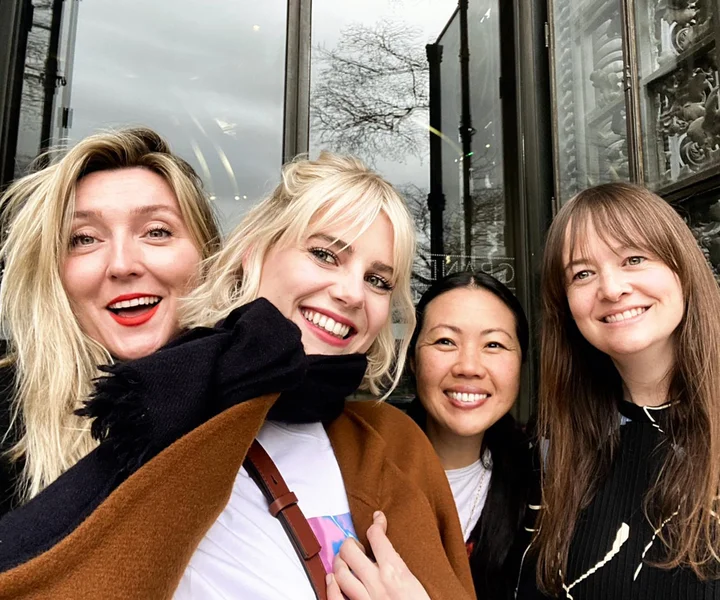 PHOTO: COURTESY OF JO BAKER
Whether Kylie has fresh highlights or a glittery Fashion Week party gets cancelled might seem trivial in a time of international crisis — especially when it's easy to confuse the lifestyles of glam squads with those of the celebrities they serve. But outside of the flawless last looks and BTS images they post on Instagram, there's a lot to the job we don't see. "What's shown on social media is definitely curated," Cho says. What's not pictured: a schedule that can change on a whim, 4 a.m. call times, jet lag, and long days away from family — all for less compensation than one might imagine. "I love my job," Cho says. "But it's not as easy and as glamorous as people may think."
_______________________________
The Real Cost Of Celebrity Beauty
The truth is, despite its glossy veneer, the job of a Hollywood beauty pro is closer to that of a gig worker: If there's no one to serve, there's no work — and no job security, either. "No matter how fabulous the venue, the client, or the event, freelance is freelance and that means you're unemployed until you're employed," says makeup artist 
Tasha Reiko Brown
, whose clients include Logan Browning and Tracee Ellis Ross.
Freelance beauty pros are typically paid between 30 to 90 days after completing a job and in one lump sum from which they draw their own salary after paying out-of-pocket for health, liability, and disability insurance, retirement, 401K contributions, agency fees, assistant fees, taxes, and supplies like foundation, brushes, and hairspray. "When people hear our rates, what they don't understand is that freelance artists are on our own. So what we make at the end of the day is not what it sounds like," Goodwin says. "There's a misnomer that it's a big glamorous career, and it is, but it's also feast or famine. We're very vulnerable because we don't get a normal paycheck. There are people who won't be able to pay their rent in this unpredictable climate."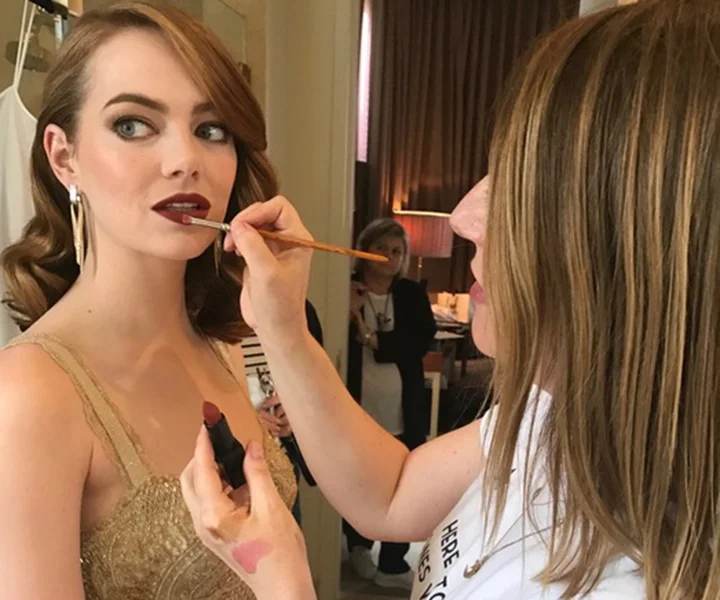 PHOTO: COURTESY OF RACHEL GOODWIN
As both Goodwin and makeup artist 
Fiona Stiles
 point out, the COVID-19 outbreak has exposed other cracks in their sector of the industry. "Makeup artists and 
hairstylists in the film industry
 are more protected because they have a union," says Goodwin, who works with actors like Emma Stone and January Jones. "Our part of the business has never had it and I've always wanted there to be one, but there's just never enough momentum, seemingly, forpeople to get behind it."
Even before COVID-19 put an abrupt end to the movie premieres, photoshoots, press junkets, and galas that kept Hollywood's glam teams earning a steady income, many artists in the industry had already taken financial hits with a changing landscape. In the 2008 financial crisis, rates were slashed to a quarter of what they once were and have never fully recovered, according to Goodwin. Meanwhile, a surge of young talent who are looking to break into the industry and willing to work for less has congested the field and stymied rates. "There are artists who will fly themselves to LA or to Paris during Fashion Week or to France for Cannes to make themselves available wherever the clients are going," notes freelance hairstylist 
Lacy Redway
, whose clients include Tessa Thompson and Zazie Beetz.
It's a precedent that can trickle up to seasoned pros, who are expected to occasionally pay out of pocket to keep a client on their books. "Since the 2008 economic disaster, studios have cut budgets so low that they sometimes ask us to pay for travel ourselves or to crash at a friend's house like we're 19 years old, but I try not to do that," Cho says. Collecting frequent flyer miles can help lift the burden, but that doesn't always cover it. Sometimes, celebrity clients split the difference.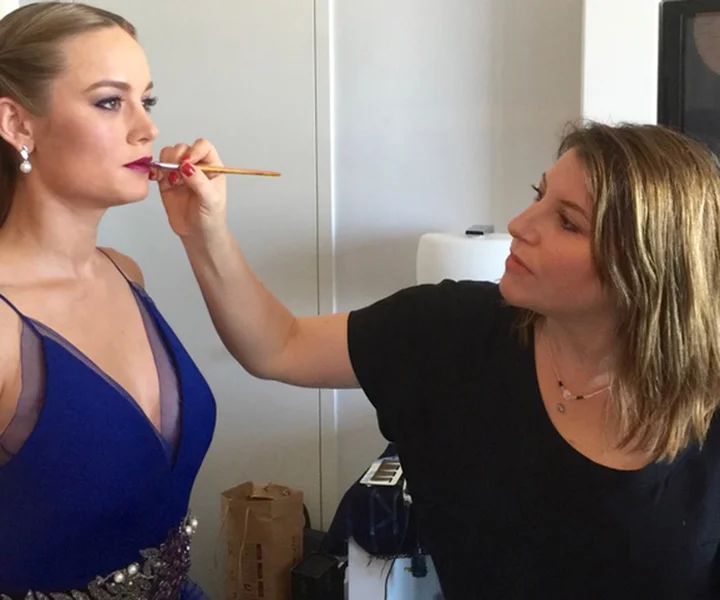 PHOTO: COURTESY OF RACHEL GOODWIN
____________________________________
Financial Worry Despite Fiscal Responsibility
In some ways, the fluid and unstable nature of freelance artistry in beauty has better prepared veteran artists and stylists for the type of sudden fallout that many gig economy workers are facing due to the coronavirus. All the pros we talked to for this story have stacked savings to draw from while they're out of work — in this case, because of a pandemic. "When I first got into this business, I was told to save my money and be able to position myself to where I had a six-month fund because you want to ride out times when your loyal clients aren't working. Even without COVID, you can have a dry spell, so you have to be the kind of person who thinks ahead and doesn't live beyond your means," Goodwin says.
A healthy war chest built to cover a few months of expenses can help ease the pressure of sudden job loss, but the unpredictable nature of the pandemic is worrying even the most prepared of professionals. "It's an emotional rollercoaster," says Redway about her concerns brought on by the shutdown. "It leaves artists and creatives in such an uncertain place because we don't know when we're going to be able to go back to work. We work in such an intimate way with talent — we're touching their faces, hair, and nails constantly. After the ban is lifted, when will people be comfortable with having other people touching them in that way?"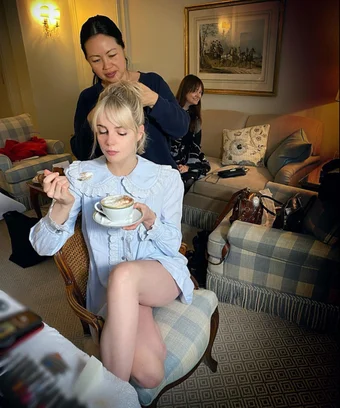 PHOTO: COURTESY OF JO BAKER
But it's not enough, and many are still left waiting and wondering what the future will hold. "I'm definitely worried about what's going to happen," notes Cho, who had just closed escrow on a new home when the shutdown hit and has a family to support. "I applied for unemployment and am waiting for it to show up. It's not a lot, but it's something." For her part, makeup artist 
Emily Cheng
 is looking into enrolling as well.
It's not just those with dependents who face additional challenges to making ends meet at a time when work has flatlined. As Goodwin acknowledges, freelance artists still establishing themselves in their careers might not have had the privilege of stacking an emergency fund. "The artists I feel bad for right now are the ones who are just starting because they haven't been able to build up and establish themselves," she says. "If I was two or three years in, this could be a roadblock I may not be able to get by."
________________________________
The Instagram Economy